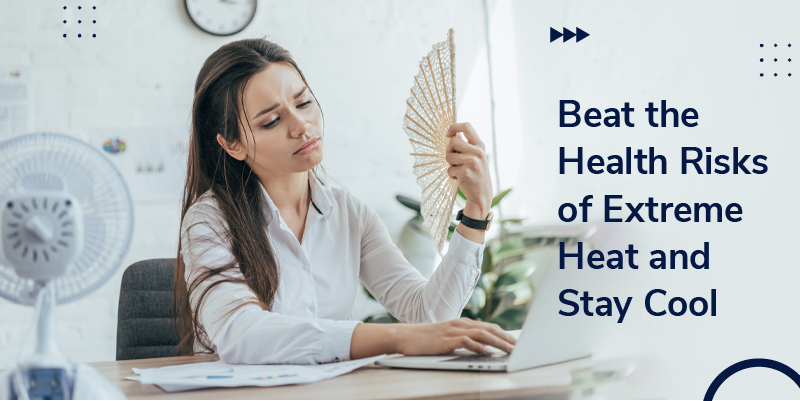 Beat the Health Risks of Extreme Heat and Stay Cool
Climate change is resulting in rising temperatures around the globe while increasing the frequency as well as intensity of heat waves. All of us are experiencing extended periods of high to very high day and nighttime temperatures. This increases the stress on human body that heightens the risk of escalating health conditions including respiratory and cardiovascular diseases, diabetes mellitus and renal disease.
There is still very little awareness about the health risks associated with living in heatwave conditions and continued exposure to very high temperatures. Practical, user-friendly technology solutions for individuals as well as local communities and society at large can help maintain health in sweltering heat conditions and save lives.
Health Risks of Rising Heat Conditions
Fast and increasing global temperatures affect people of all age groups and social status. However, some people are more vulnerable to the risks of extreme heat conditions. These include infants and children, pregnant women, senior citizens, individuals with pre-existing health conditions, outdoor and manual workers, athletes, and the poor with little or no protection from heat. According to the World Health Organization (WHO), heat waves come with several potential health dangers, including:
Respiratory disease
Heat cramps
Heat rash
Heatstroke
Heat exhaustion
Kidney damage
Impacts on mental health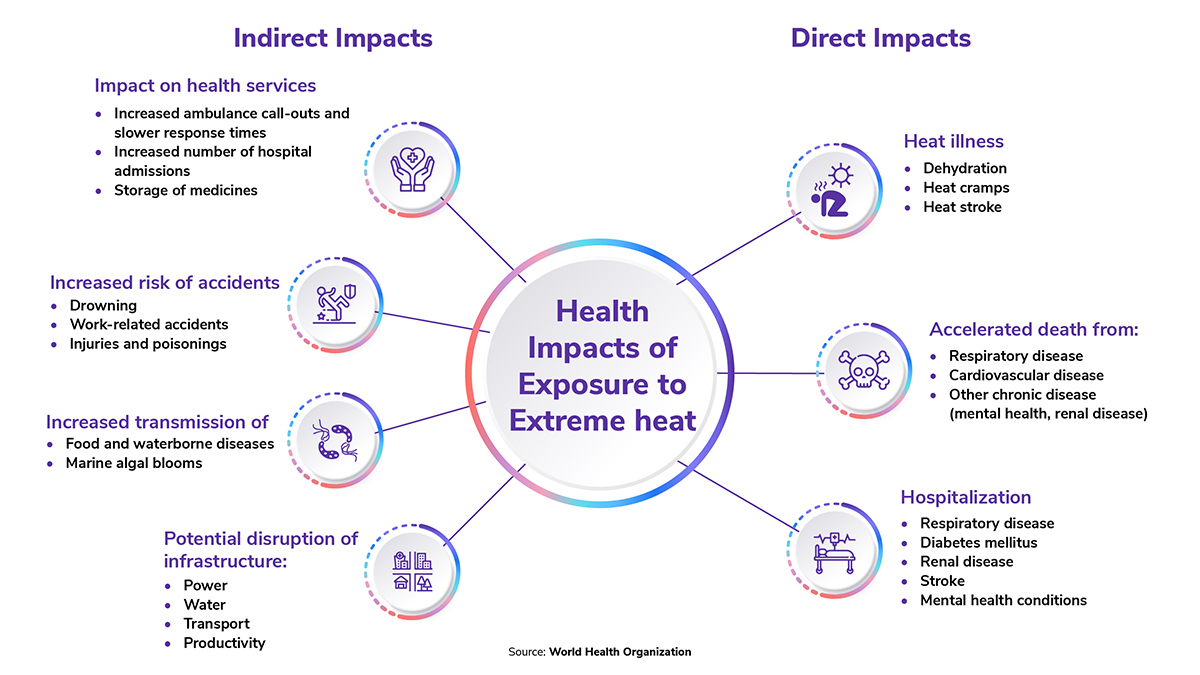 Tips to Beat the Heat
Stay hydrated and keep your body cool
Limit your exposure to direct sunlight, avoid stepping out during daytime.
Keep your body temperature low with frequent showers. Seniors could also use wet towels, foot baths, cold packs and wraps, etc.
Wear light, loose-fitting clothes of natural materials.
Avoid going for a run or any other demanding physical activity during daytime.
If you go outside, wear a wide-brimmed hat or cap and sunglasses.
Stay hydrated with water, fruit juices, and lemonade while avoiding alcohol, caffeine and sugar.
Eat smaller, light meals. Avoid high protein foods like chicken, meats, etc.
Also Read: Why Is Excess Salt Bad For Health
Tips for Cooler Indoors and Outdoors
The room temperature should ideally be kept below 32 °C during daytime and 24 °C during night as specified by WHO. This should especially be followed if there are infants or seniors at home or anyone with chronic health conditions.
Draw the shades and curtains of all rooms to keep your home cool.
Check with your doctor or take a first aid course to take steps to treat heat emergencies.
If going outside, try to stay in the shade.
Never leave children or animals in parked vehicles.
Store medicines, eye drops, etc. below 25 °C or in the refrigerator (read the storage instructions on the packaging).
Existing health conditions, age or pregnancy could make someone vulnerable on really hot days and they might need assistance to deal with a heat emergency. Therefore, it is important to discuss extreme heat-waves among your family members, friends and colleagues. This will help them to take precautions to deal with heat indoors and outdoors. REAN HealthGuru can be your perfect partner to learn more about healthy diet and medication compliance. You can use the app to set your water intake reminders as well as track your body vitals on a daily basis to avoid any heat related emergencies.
If your city is facing extreme heat conditions, it is good to seek medical advice if anyone in your family is suffering from a chronic medical condition or taking multiple medications. Stay cool, stay safe!!
About The Author