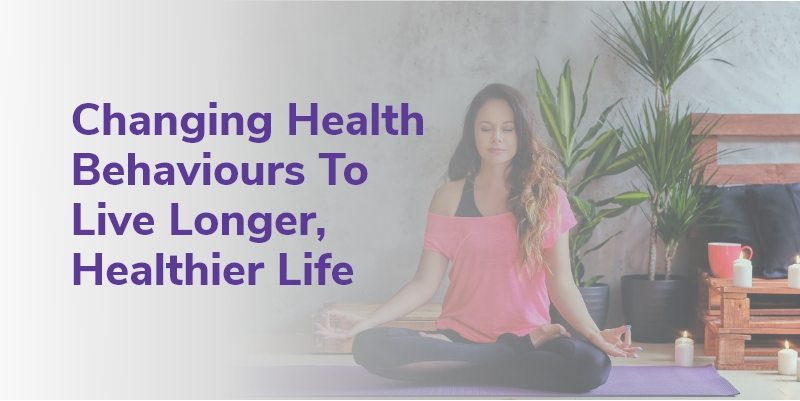 Changing Health Behaviours To Live Longer, Healthier Life

Modifiable
health behaviors
contribute to an estimated
40 percent
of deaths in the United States. Tobacco use, poor diet, physical inactivity, poor sleep, poor adherence to medication, and similar behaviors are prevalent and can diminish the quality and length of patients' lives, as per a
study
.
All of us look forward to live a long and healthy life. WHO defines healthy ageing as "the process of developing and maintaining the functional ability that enables wellbeing in older age." Functional ability is about having the capabilities that enable all people to be and do what they have reason to value. Our health depends on many factors including genetics, behaviour, environmental and physical influences, medical care and social factors.
Of these, one thing that is in our control is: our health behaviour.
Therefore, doctors all over the world continuously engage and motivate their patients to recognize unhealthy behaviors, and provide evidence-based interventions to help them make lasting changes. But in many cases, consultants sincerely discuss the risks associated with bad habits with patients and propel them towards making changes — only to feel disheartened when patients do not follow the advice and go back to their old habits. This could be frustrating for both the doctors as well as their patients and lead to lack of motivation to work on finding the solution.
To prevent these setbacks and set yourself up for successful behaviour change, you need to:
Understand that your current and future identity are clearly distinct
View your future identity different from who you are today, allowing yourself to become the person that you aspire to be
James Clear, his book Atomic Habits, highlights the three layers of behavior change: "A change in your outcomes, a change in your processes, or a change in your identity. Outcomes are about what you get. Processes are about what you do. Identity is about what you believe. With outcome-based habits, the focus is on what you want to achieve. With identity-based habits, the focus is on who you wish to become. The ultimate form of intrinsic motivation is when a habit becomes part of your identity."
To change our behaviour, we need to understand how our habits are formed. As explained by James Clear, all our habits can be broken down into a feedback loop that involves four steps: cue, raving, response, and reward."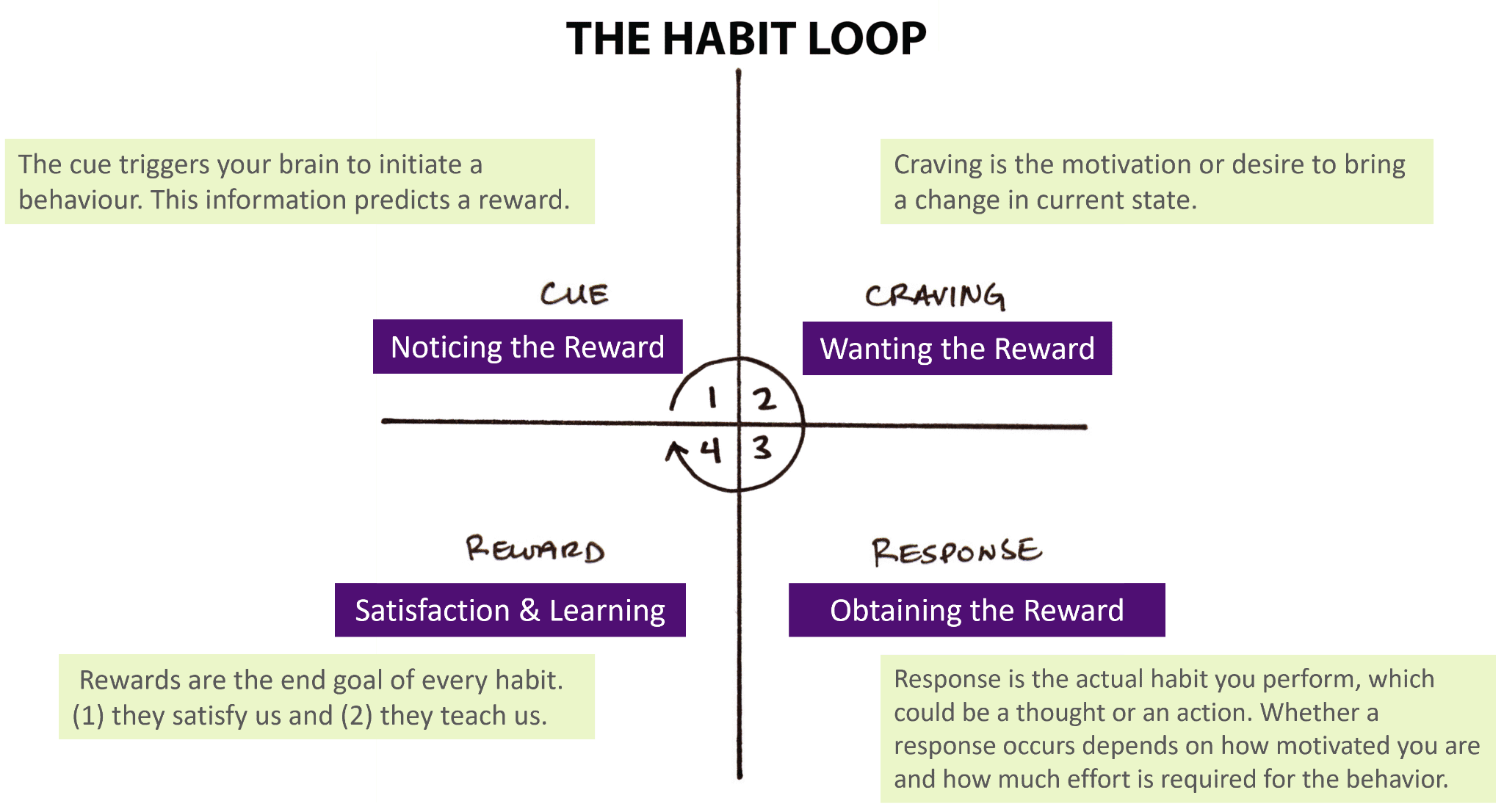 The Four Laws of Behavior Change are a simple set of rules we can use to build better habits. They are (1) make it obvious, (2) make it attractive, (3) make it easy, and (4) make it satisfying.
Make It Obvious: This step involves making the cue to a good habit difficult to ignore. This needs to be done by planning beforehand about when and where to act. That is, how you intend to implement a particular habit. When you club a new habit with something that you already do every day, you could use it to cue a new habit that you want to adopt. Most importantly, changing your environment in a way that it draws your attention to the intended action will work as the most effective cue to adopt a new habit.
Make It Attractive: While trying to move away from your old, bad habits, it is critical to make your new habits look attractive by creating a motivation ritual. A ritual provides a mindless way to initiate your behavior, that makes starting your habits easier. Before a difficult habit, do something you enjoy, in order to create a positive association. If you are planning to quit a difficult, old habit, then use the power of community. Join a group where the behaviour you want to adopt is the norm. Joining a community gives us a sense of belonging, helps us gain information and helps define our sense of self.
Make It Easy: To make a habit part of your new identity, it is important to take away all remnants of your old habit. Revamping your environment and preparing it in advance helps you to create your new identity and allows you to be ready to practice your new habit. If you plan your day and activities that place your habit along your natural daily path, it becomes much easier to adopt the new lifestyle like cycling or jogging everyday to pick up or drop your kids to school could help you get in the habit of exercising daily.
Make It Satisfying: We tend to repeat those behaviours that fetch quick rewards. So, another important step while adopting a new habit is to set small milestones with immediate rewards. This will keep you motivated while you wait for the longer-term health rewards to kick in. For example, if someone is trying to quit smoking, then continuing to stay with the quit for the first month/ 90 days/ six months calls for a celebration with friends and family. Receiving short-term positive reinforcement in the form of rewards sustains motivation.
Also Read: 6 Rules To Create A Heart-Healthy Diet
As we set foot on the path of change, having regular contact with our consultant/doctor/therapist is essential to get reinforcement and keep our focus clear on the rewards that we will achieve by changing our identity and associated behaviour. Constant positive messaging is the key for continued progress. Being a part of a community that discusses various stages of change, roadblocks faced and possible solution scenarios can be a great way to encourage continued efforts, reducing risk for relapse.
Positive healthy behaviors can not only extend longevity but also reduce the risk of losing mobility and independence in senior years. Making healthy choices today lays the foundation for a healthier life. Finding healthy activities that you can maintain is the key to healthy living and making it enjoyable and productive. Attend the webinar on "Building Healthy Habits For A Healthier Tomorrow" to know more from the medical and health experts. Register now and join the discussion on October 30th, 6-7 pm IST.
REAN Foundation helps users to adopt health behaviours to improve quality of life & self-manage health conditions in the comfort of home. Please visit our website to learn more about our mobile health platforms.
About The Author