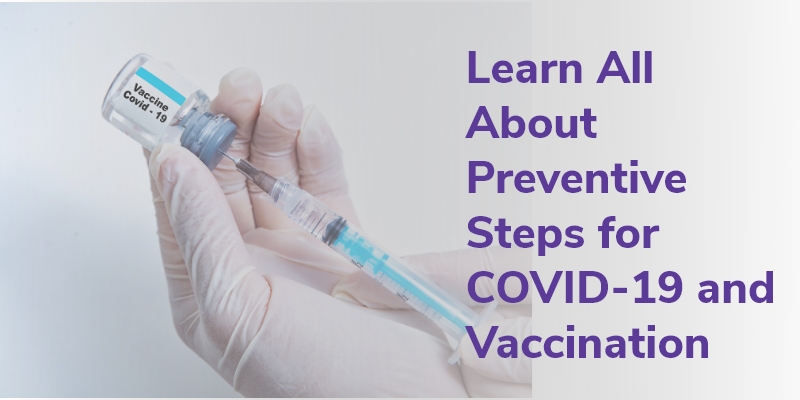 Learn All About Preventive Steps for COVID-19 and Vaccination

While front-line medical workers deal with the ongoing pandemic, it lies on all of us to support their efforts with our COVID-appropriate behavior. A collective effort is necessary to contain the spread of this disease and save as many lives as possible.
How to prevent the spread of COVID-19?
Here are the steps you can take to prevent the spread of COVID-19:
Always cover your nose and mouth with a face mask while going out of your home.
Maintain a social distancing of at least six feet.
Avoid going in crowded areas or large gatherings.
Get vaccinated as soon as you are eligible.
Avoid maintaining close contact with those who are unwell or show COVID-19 symptoms.
Avoid touching your nose, mouth, and eyes when you go outside your home.
Stay home and avoid contact with others when you are sick.
Use a tissue to cover your face while coughing or sneezing. Also, dispose of the tissue in the trash after use.
Disinfect and clean objects and surfaces that are touched frequently on a regular basis.
Wash your hands with soap and water frequently.
Also Read: Know All About the COVID-19 Disease and How it Spreads
How does vaccination help?
Vaccines prompt the recipient's body to set off an immune response within the body exactly as it would have on its first reaction to the actual pathogen. This immunity helps the individual get better equipped to fight the virus if exposed. The immune system is trained to recognize the virus and protects you by producing antibodies. Even in case of infection after vaccination, you may experience mild corona symptoms and your post-viral recovery will also be faster.
Some vaccines should be given in multiple doses, within a span of a few weeks to some months. This timing is carefully studied and planned by researchers to allow for the production of long-lived antibodies and the development of memory cells. In this way, the body is prepared to fight the specific disease-causing pathogens, if and when exposed in the future. Getting vaccinated may also protect people around you because if you are protected from getting infected from the disease, you are less likely to infect someone else.
Is the COVID-19 vaccine safe?
The human body's response to a vaccine is similar to when it encounters a natural infection. This provides us with the immunity to fight the pathogen and gain protection from the disease by taking a vaccine. Vaccines do not contain a live virus and cannot cause disease. The vaccines cannot change your DNA.
The COVID-19 vaccines are safe for most people 18 years and older, including those with pre-existing conditions of any kind, including auto-immune disorders, as stated by WHO. These conditions could include: hypertension, diabetes, asthma, pulmonary, liver, and kidney disease, as well as chronic infections that are stable and controlled. If you have any questions or concerns before taking the vaccine, please consult your doctor.
How long is the COVID-19 vaccine effective?
Now that vaccines for COVID-19 have been successfully created and made available for general consumption, people all over the world are either getting vaccinated against COVID-19 or awaiting their turn to receive the vaccine jab. One of the next big questions that many people are asking is the duration until which the immunity gained from these vaccines will last. Research is being conducted to confirm how long the protection from the vaccines will last. It is possible that protection might decrease with passing time, and people may need another booster dose after a few months for reinforcing the immunity. We might need to get a vaccine shot every year too.
Is COVID vaccination safe during pregnancy and breastfeeding?
Clinical studies and trials to ascertain the safety of COVID-19 vaccines and how effectively they work to provide security from the disease in pregnant people are being conducted or planned. Vaccine manufacturers are also collecting and reviewing data from people in the completed clinical trials who received vaccines and became pregnant. An interim guidance by the World Health Organization permits vaccination of pregnant women when its benefits outweigh potential risks. This has cleared the way for the Indian Government to expand its immunization drive to this set of population. India has so far exercised caution and been conservative in vaccinating pregnant women due to a lack of proof in terms of clinical trial data.
You can also click here to get answers to all your questions and doubts regarding COVID-19.
About The Author