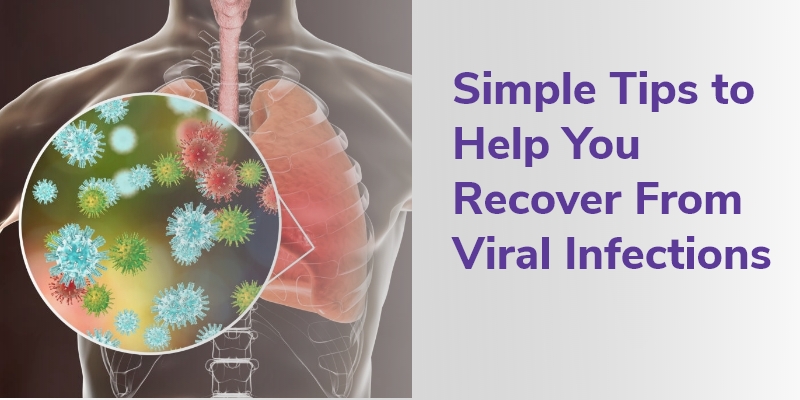 Ensuring Fast Recovery Post Viral Infections
After-effects of any severe viral infection could range from weakness, fatigue and shortness of breath while doing small activities like walking, climbing steps or performing basic tasks at home. As you recover from viral infections, the rehabilitation efforts should aim to restore your physical and mental strength, helping you make a successful comeback to your previous quality of life. So, let us discuss the possible challenges on the road to recovery and what actions and planning can help you in the process to overcome these.
Managing Breathlessness and Improve Ease of Breathing
One of the most common challenges faced while recovering from viral illness like COVID-19 is experiencing breathlessness. Feeling breathless leads to one feeling anxious and helpless at times, which worsens the problem. The first step towards healing is to stay calm and not feel desperate. The episodes of breathlessness can be improved and finally eliminated by slowly increasing your activities, taking time to work on breathing techniques and introducing basic exercises to initiate the healing process.
Working on Stress Caused by the Illness
The disruption of your normal life caused by a severe illness along with the additional financial burden of treatment and rehab is likely to cause some worry or stress. Please know that it's normal to feel a bit worried, scared or helpless about the situation, but it's not ok to keep this stress bottled in and not sharing with anyone. The first and foremost step to healing the stress is to acknowledge and face it. Share it with someone you trust, or try getting help from a professional who understands your situation and gives you the right guidance.
Exercises can help immensely in the following ways:
Improve your thinking
Reduce stress and improve mood
Increase confidence
Improve your energy
It is great if you work with an exercise/health coach to find a way to stay motivated with your exercises. You could also use health apps to plan your goals and keep track of your progress
while connecting with other people facing similar issues to share your thoughts and get mental support.
Also Read: Changing Health Behaviours To Live Longer, Healthier Life
Building Your Attention, Memory and Ability to Think Clearly
The cognitive function of the brain covers everything from our memory, our attention to detail and our ability to solve problems to our capacity to create and innovate. Most people recovering after a viral illness might have no or very little impact on their memory and ability to think. But some people who had been dealing with some memory problems before falling ill may find that their problem increases afterwards. So, it may be difficult to ignore distractions and remain focused on something. Participating in small activities to rebuild your concentration might help in improving the condition. The activities could be anything like helping your child with school homework or having a light conversation with family and friends, having music or TV playing in the background as you are doing your chores, or having focused group discussions or healthy debates in smaller groups. Getting a good night's sleep is equally important to build back your memory and regain your thinking capacity.
Eating Healthy to Rebuild Body Energy and Strength
Any viral illness makes it difficult for the body to recover as it depletes it of nutrition and immunity. Therefore, a healthy, nutrient-rich diet is very important for quick healing. As the current viral pandemic targets vital body organs, predominantly lungs, heart and brain, a protein-rich diet is needed to repair the damaged body tissues and boost the immune system. A generous amount of immunity-boosting fresh fruits and vegetables, as well as nuts and seeds, will ensure that your requirements for critical vitamins and minerals are being met Huge quantities of liquid in the form of plain water, soup, juices or tea will help in speeding up the body's recovery process. While outside foods look quite enticing, it is good to stick with fresh, home-cooked meals during the recovery period as their hygienic preparation and quick consumption is the fastest route to good health.
All above-mentioned suggestions and steps should be initiated into the rehab program after consulting with your doctor. Miracles do not happen overnight, they take time, & if you are patient, the problems disperse, paving the way for a beautiful life.
REAN Health Guru is a  technologically advanced virtual healthcare assistant that plays a key role in effective Covid management by answering all your questions regarding corona symptoms assessment, personal risk assessment, and providing corona vaccination assistance.
Learn more about REAN Health Guru
About The Author