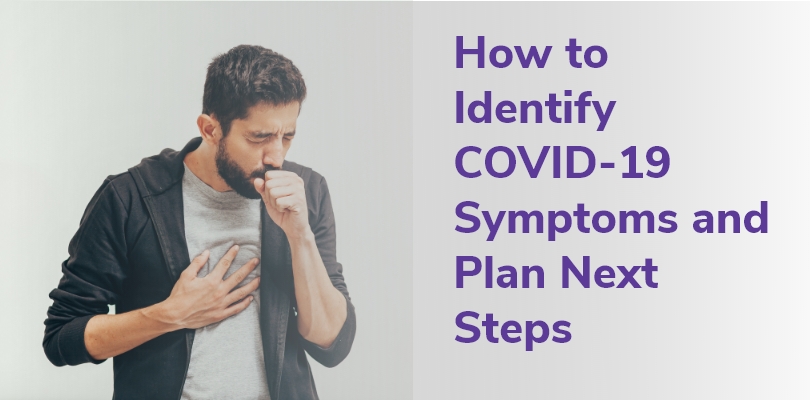 How to Identify COVID-19 Symptoms and Plan Next Steps

COVID-19 is a highly infectious respiratory illness that has spread as a pandemic. This illness is caused by the coronavirus. In the beginning, you may not exhibit any symptoms at all and may remain asymptomatic even if you catch the infection. In some cases, mild symptoms appear. This can be easily treated at home and does not require hospitalization. But a few high-risk individuals develop severe problems, such as trouble breathing, etc. The chances of getting a severe infection increase if you're older in age or have pre-existing health conditions like diabetes or heart disease. In these cases, post-viral recovery will also take more time.
What are the most common symptoms and signs of COVID-19?
CDC states that people infected with COVID-19 may have many symptoms. The symptoms can range from mild ones to severe illnesses. The symptoms are usually noticed 2-14 days after getting exposed to the virus. Some of the common COVID-19 symptoms are:
Cough
Fever/chills
Fatigue
Headache
Sudden loss of smell or taste
Congestion or runny nose
Muscle or body aches
Vomiting or nausea
Diarrhoea
Shortness of breath or difficulty breathing
Sore throat
In case you have any of the above-listed symptoms, you need to get yourself tested for COVID-19 and stay at home until you get your result. It is estimated that around 1 in 3 people who are infected by coronavirus will not have any symptoms at all. But, they can still pass on the infection to others. This is why everyone should get tested on a regular basis.
Also Read: Are You at a Higher Risk of Experiencing Complications if You Get Infected with COVID-19?
What is the difference between RT-PCR and antigen tests?
RT-PCR Test: RT-PCR test is one of the most common tests used to diagnose COVID-19. It is a molecular test that tests swab samples from a person's nose and throat. In this test, a small amount of DNA is taken first. Then, specific sequences of the genetic material are amplified for the diagnosis of the acute infection. The point to be noted here is that the RT-PCR test is used to detect acute infection alone. It cannot be used to check whether the patient has recovered fully from a COVID-19 infection. The test is specifically for the virus. In case the person is tested positive, the chances of him/her being affected by COVID-19 is also high.
Antigen Test: This COVID-19 test is used to detect the presence of certain types of proteins in the virus. The test is conducted by using a nasal swab. A fluid sample is taken and the antigen tests will give results in minutes. Others may be sent to a lab for analysis. If the instructions are carefully followed, the antigen test results will be accurate. But, the chances of false-negative results are also more. There are chances that you might be infected by the virus and yet received a negative result. Depending on the situation, your doctor may ask you to get a PCR test done to confirm the negative antigen test result.
How do symptoms range from mild to severe?
COVID-19 severity is often divided into categories like mild, moderate, and severe. According to the COVID-19 treatment guidelines published by the National Institutes of Health (NIH), they're defined as:
Mild illness. A person has any of the symptoms of COVID-19 except for shortness of breath and difficulty breathing.
Moderate illness. A person may have a lower respiratory illness, such as pneumonia. However, their blood oxygen levels remain at 94 percent or higher.
Severe illness. A person has blood oxygen levels that are less than 94 percent, a high breathing rate, and signs of severe lung disease.
When to plan for home care or hospital admission?
If you suspect that you are experiencing COVID-19 symptoms, you need to start planning for the right treatment. Your illness symptoms can vary from mild to moderate and severe. This transition can happen almost a week after the initial symptoms are observed. But, it can also be observed at a later or earlier stage. According to the CDC'sTrusted Source analysis of COVID-19 progression, the timeframe from symptom onset to breathing difficulties is typically between 5 to 8 days. In people who become severely ill, the length of time between the onset of their symptoms and admission to a hospital intensive care unit (ICU) is between 9.5 and 12 days.
Patients with mild clinical symptoms (absence of viral pneumonia and hypoxia) may not initially require hospitalization. Also, most people with COVID-19 infection are able to manage their illness at home. The decision to monitor a patient in the inpatient or outpatient setting needs to be made on a case-by-case basis. This decision depends on the progression of symptoms, supportive care requirements, possible risk factors for severe diseases (for example the infected person has a pre-existing condition like diabetes), and the capability of the person to stay home and self-isolate. Patients with risk factors for severe illness need to be monitored closely as they are at possible risk of disease progression to severe illness, especially in the second week after symptom onset.
If you have been diagnosed with COVID-19 and at any point feel that you cannot cope with your symptoms at home or if your condition gets worse, please contact your doctor immediately.
Technology plays a vital role in covid management. Chat with our  REAN Health Guru, virtual assistant to get answers to all your questions and doubts regarding COVID 19. It also helps with Corona vaccination assistance.
About The Author