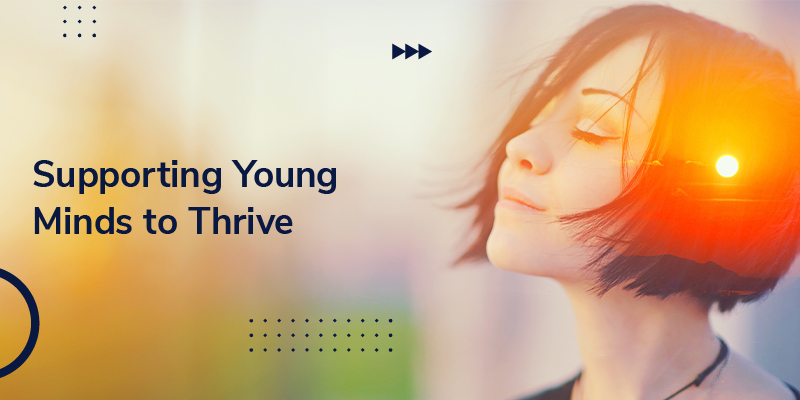 Supporting Young Minds to Thrive
Youth is a unique and formative phase of life, a period of major physical, psychological, and emotional changes. As they develop new aspects of social interactions and relationships, their need to access psychological support and counselling increases.
Globally, as per the estimates shared by the World Health Organization, 1 in 7 (14%) 10-19 year-olds experience mental health conditions, yet these remain largely unrecognised and untreated. Adolescents with mental health conditions are particularly vulnerable to social exclusion, discrimination, stigma (affecting readiness to seek help), educational difficulties, risk-taking behaviours, physical ill-health and human rights violations.
It is important for parents, educational institutions as well as governments to take care of young minds as they are our future. It becomes critical to identify behaviours that are not normal and work on prevention from an early stage. Some commonly known mental health conditions in adolescents are:
Behavioural Disorders
Behavioural disorders are more common among younger adolescents than older adolescents. At least 20 per cent of young people are likely to experience some form of mental illness - such as depression, mood disturbances, substance abuse, suicidal behaviours, eating disorders and others. Parents and medical professionals need to observe carefully to check if there are occasional errors of judgement or if a pattern of misbehaviour is developing that requires professional intervention. The severity and frequency of such episodes can act as a guide. For example, regular defiant behaviour, frequent episodes of anger and fighting, increased preoccupation with social media, and theft are much more significant than isolated episodes of the same activities. Consistent poor performance and lack of attention at school as well as staying away from social activities at home are another red signal. The problems become severe and major cause for concern if any youngsters cause a serious injury or use a weapon when in a fight.
Most common behavioural disorders among younger adolescents are:
1. Attention Deficit Hyperactivity Disorder (ADHD) is characterised by difficulty paying attention, excessive activity and acting without regard to consequences.
2. Conduct Disorder (CD) is displayed when youth showcase delinquent behaviour and refusal to accept rules.
3. Oppositional–Defiant Disorder: This is a pattern of hostile and negative behaviour that can be identified by observing youth who often lose temper and argue with adults, have a problem in following rules and refuse to follow them, often annoy others as well as blame others, becoming angry or resentful.
Emotional disorders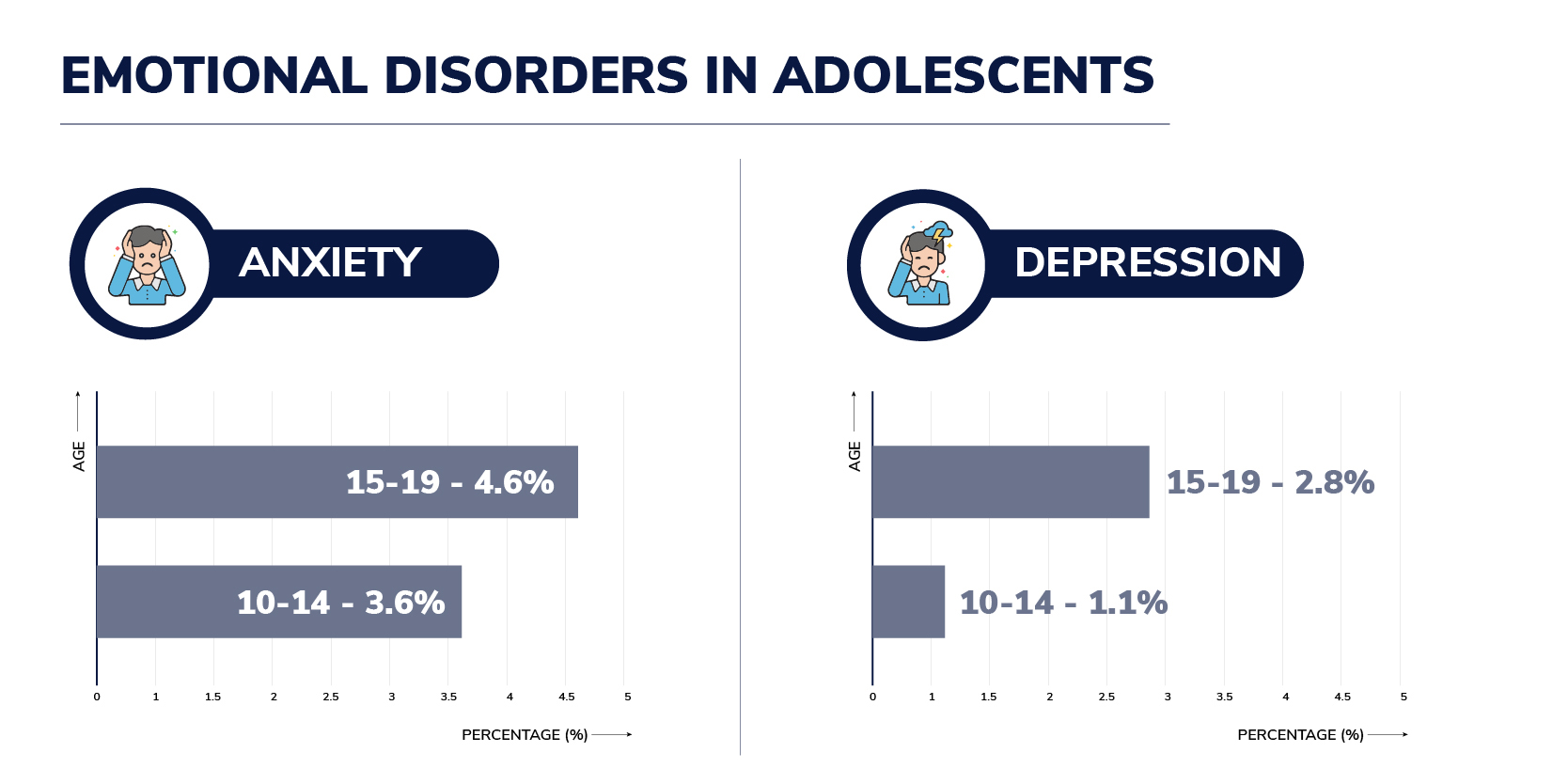 Emotional disorders are common among adolescents. Anxiety disorders that may involve feeling a sense of panic or excessively worrying, are the most common among adolescents. It is estimated that 3.6% of 10-14 year-olds and 4.6% of 15-19 year-olds experience an anxiety disorder. Depression is estimated to occur among 1.1% of adolescents aged 10-14 years, and 2.8% of 15-19-year-olds. Depression and anxiety share some of the same symptoms, including rapid and unexpected changes in mood.
Although depression and anxiety are distinct conditions, many of their symptoms overlap. Signs and symptoms of depression include:
Sadness
Feeling empty inside
Hopelessness
Getting cranky or frustrated, even at minor problems
Weight loss or weight gain
Difficulty falling asleep or staying asleep
Persistent tiredness
Losing interest in things you used to enjoy
Difficulty concentrating
Feelings of worthlessness or excessive guilt
Some commonly observed symptoms of anxiety include:
Feeling restless or wound up
Becoming easily fatigued
Difficulty concentrating
Irritability
Inability to control your worry
Muscle tension
Sleep problems
Heart palpitations, sweating, or dizziness in certain situations
Anxiety and depressive disorders can drastically affect school attendance making youngsters withdraw from attending classes and participating in extracurricular activities. Social withdrawal can worsen and lead to isolation and loneliness. Therefore parents, teachers and carers need to know about these signs and symptoms and seek professional help if required.
Also Read: Making Pregnancy & Motherhood A Breeze with Technology
Eating disorders
Eating disorders, such as anorexia nervosa and bulimia nervosa, commonly emerge during adolescence and young adulthood. These include:
Anorexia nervosa is an eating disorder in which people maintain a weight that is below average for their age and height.
Bulimia nervosa is a type of eating disorder in which a person eats a large amount of food and then tries to get rid of the extra calories by self-induced vomiting or excessive exercise.
Binge eating disorder makes people act under a compulsion to eat unusually large amounts of food often and in secret. They may feel guilty about binge eating, but cannot stop.
Research shows that abnormal eating behaviours are mostly related to teens' concerns about their body weight and shape. Reasons like family relationships, psychological problems, high personal standards, and parental expectations develop such disorders. Anorexia nervosa can lead to premature death, often due to medical complications or suicide, and has higher mortality than any other mental disorder.
Substance Abuse
Worldwide, the prevalence of heavy episodic drinking among adolescents aged 15­-19 years was 13.6% in 2016, with males most at risk.
All substance use can put youngsters at risk of problems such as road accidents due to driving under the influence of alcohol or other substances, becoming violent and getting into fights, unwanted sexual activity, and overdose. Drugs, tobacco and alcohol also interfere with and hinder adolescent brain development. Adolescents are at increased risk of developing long-term consequences, such as mental health issues like isolating from others, anxiety and depression, withdrawal from school and other regular activities, and higher rates of addiction.
Observe, Communicate and Act Fast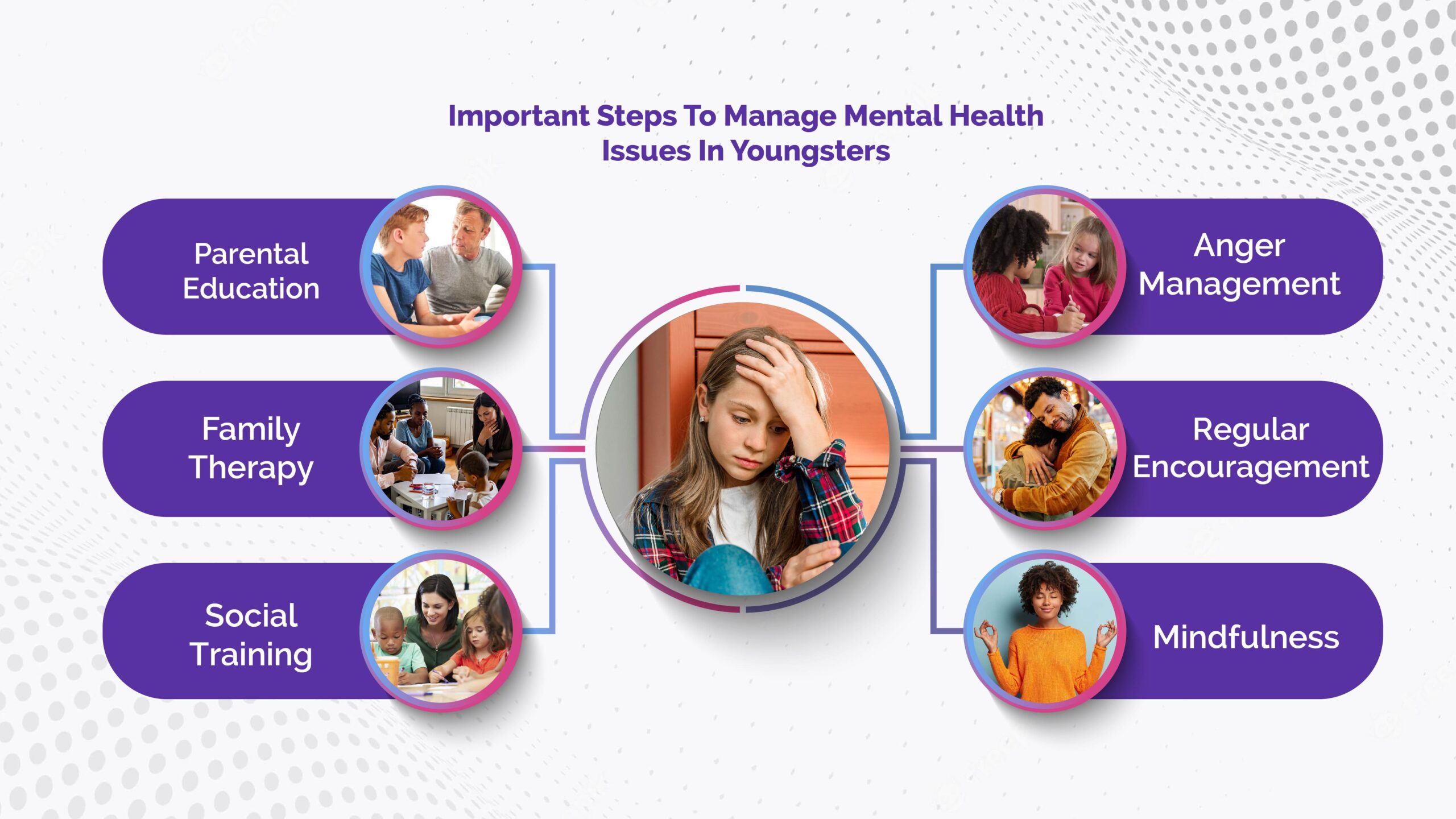 Observation and communication is the first step towards counselling and treatment of youngsters facing mental health problems. Some important steps to check these disorders may include:
Parental education – parents need to learn how to communicate and understand teenage children. Parenting style needs to change from authoritative to engaging and supportive.
Family therapy – the entire family needs to work on improving communication and problem-solving skills. All family members, especially the parents should learn how to relate to and support the teen.
Social training – as children grow up, they need to be gradually taught important social skills, such as having a conversation with grandparents or playing cooperatively with young children in the family.
Anger management – teengagers have to be taught through words and actions how to recognise the signs of growing anger and taught various techniques to divert their minds to avoid any aggressive behaviour. Relaxation techniques and stress management skills are also very important and will be helpful throughout their life.
Regular Encouragement – Encouraging youngsters to excel in their particular talents (like sports, music, acting, etc.) can help tremendously in building self-esteem.
Mindfulness - Activities like meditation help children and teens to focus on emotion regulation, attention to feelings, and non-judgmental responses to one's thoughts and emotions. This makes mindfulness an excellent treatment for adolescents who experience difficulties with mood or anxiety disorders.
It is never too late to start talking to young adults in your family to understand their challenges and issues. We need to keep our communication channels open to acknowledge and address mental health needs of adolescents. Reach out to a counsellor or doctor if you detect any disturbing signs. Learn how REAN HealthGuru can help children and young adults in developing good habits for a healthier body and mind.
About The Author