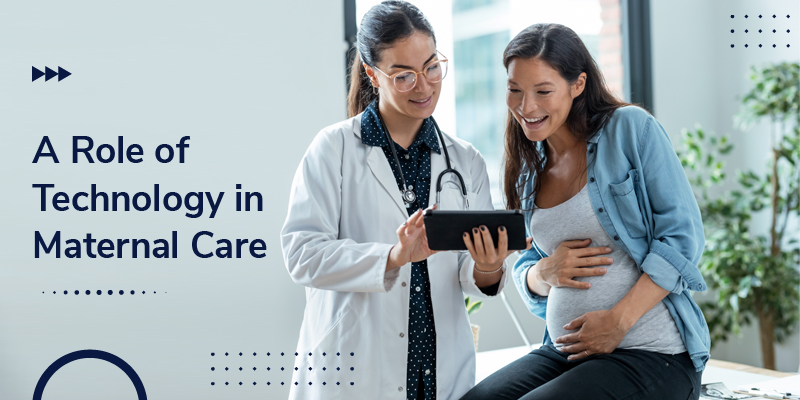 Making Pregnancy & Motherhood A Breeze with Technology

Pregnancy is a life-changing experience for women. It is an entirely new phase that brings with it happiness, excitement, apprehension, and concern. Despite all the good health and care, so many things can go wrong with the pregnancy.
Nearly 15% of pregnant women are vulnerable to life-threatening complications that affect the overall health of the mother and the fetus. Many women die every day due to pregnancy and childbirth complications. This burden is multifold for women living in rural and remote areas without access to emergency medical care.
Fortunately, we do not live in ancient times when pregnant women and new mothers had to deal with unexpected health consequences. Such healthcare disparities can now be fixed, thanks to technology.
Health tech is under the spotlight as the medical sector begins to realize and maximize its full potential. The shift is already evident in one aspect: Pregnancy and maternity care. Remote healthcare and digital monitoring are joining forces with traditional maternal care systems. But why? There are two obvious reasons for this new collaboration:
Limited utility of unstructured patient data that exists in the healthcare system.
Need created for remote medical care during the pandemic.
So, why is this special focus on technology and maternal care? As mentioned earlier, pregnancy is a unique experience, where women undergo significant physiological changes. Evidently, pregnancy is neither a sickness nor a disorder. Yet, it is a phase that comes with its own challenges.
Challenges Faced By Pregnant Women
1. Lack of proper guidance
Pregnancy is not all hunky-dory. Not for everyone, and not all the time. Since every pregnancy is unique, the changes may be new even for women who have been through the experience. Moreover, new mothers may want answers to a number of issues regarding nutrition, medical checkups, safety, health, and labor. While it is true that they have their family members to support them, they may not have the right resources to find the answers to all their questions. Moreover, the current fragmented healthcare system is certainly not conducive for them to figure it out on their own.
2. Misinformation from wrong sources
The internet is bursting at the seams with both right and wrong information about pregnancy, lactation, etc. This information (or misinformation) is often the nemesis for expectant mothers, who rely on the internet for answers and clarifications on pregnancy. What's worse is that many of them believe what they read on the internet, thereby causing a lot of anxiety for themselves and their family members.
3. Risk of contracting infections
Ever since the pandemic reared its ugly head, the risk of contracting infections has risen, making it immensely challenging for pregnant women to have consultations and tests.
Femtech: Spreading a Ray of Hope For Pre & Post-Natal Care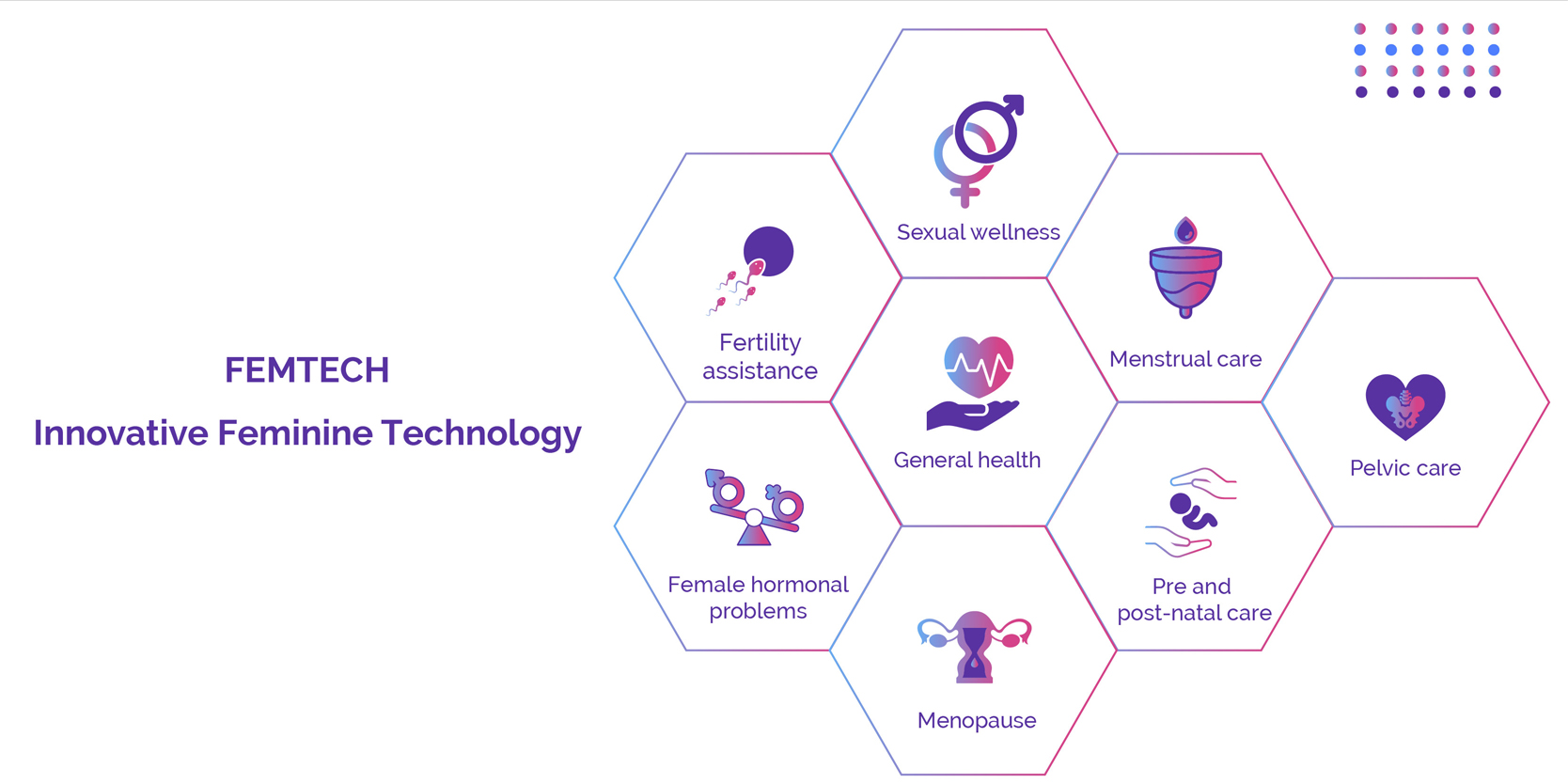 The current generation of expectant mothers is lucky indeed! There is some good news on the maternal healthcare front. Tech support is fast evolving to supplement traditional gynecology, and the latest avatar is Femtech. Short for Female Technology, it collectively refers to all products, services, software, and diagnostics that support female healthcare.
The term "Femtech" was originally coined by Ida Tin, the founder of a period-tracking app, who accidentally used the term and created a name for a new category of products. Today, the Femtech category is powered by hundreds of established organizations and aspiring startups that create innovative solutions for:
Fertility assistance
Pre and post-natal care
Female hormonal problems
Menopause
Pelvic care
Menstrual care
General health
Sexual wellness
Let's now explore a range of "Femtech " solutions that benefit pregnant women and new mothers.
1. Medical apps
From period trackers to pregnancy trackers, there's a slew of medical apps to help track and monitor the entire pregnancy journey- from gestation to delivery. Additionally, online stores are burgeoning with apps that deliver exclusive pregnancy-related health information and recommendations for proactive care.
2. Medical devices
New devices are being introduced to the femtech market almost every single day. There are devices to:
Monitor pulse rate
Monitor skin temperature
Monitor temperature of newborns
Identify the best days to conceive
Monitor blood pressure
3. Virtual clinics
Virtual clinics are the perfect response to the need of the hour. During the COVID-19 pandemic, with crippling global healthcare systems, adopting virtual clinics came as a godsend for many pregnant women, particularly those without access to hospitals or clinics. These femtech resources provide all kinds of medical care like:
Fertility guidance
Pregnancy guidance
Post-partum care
4. At-home fertility hormone tests:
A simple at-home finger-prick test will give you control over your fertility health. It takes a few minutes to request a test, complete the at-home test following the detailed instructions, and then ship the sample to a lab so you can receive personalized results.
Managing Gestational Diabetes with Technology
Gestational diabetes or diabetes during pregnancy is an unexpected health risk with adverse outcomes that can affect both the mother and child. The risk is multifold for women with little or no access to timely medical care. Here again, technology comes to the rescue in the form of:
Smartphone apps
Cellular-enabled blood glucose monitors
AI-powered apps
Telemedicine
These tech solutions prove extremely handy in promoting diabetes awareness amongst pregnant women and significantly increasing patient experience. However, this technology is still in its budding stages. This technology requires robust data and in-depth research to become an applicable and reliable source of help for gestational diabetes.
Also Read: What's the Unholy Nexus Between a Heart Disease & Stroke?
4 Uses of Femtech for Maternal Healthcare
It is hard to imagine medical care without technology in the current scenario. Below are some ways femtech and other tech solutions have simplified pregnancy monitoring to improve the lives of expectant mothers.
1. Gathering and securing personal data
The pregnancy app has become a great tool for keeping track of the baby's growth and tracking one's health. Information about the pregnancy is stored in the cloud and secured with best-in-class security measures.
2. Registering online appointments
Registering with caregivers is as easy as clicking a few buttons after downloading the pregnancy app, which poses general questions that help expectant mothers glean crucial information. This information is then entered into the app, stored in the cloud, and is accessible anywhere with an internet connection. Doctors can view the information you've entered on the app by logging in.
3. Providing guidance to remote medical care
Pregnant women can use apps to communicate with their gynaecologist without driving several miles for their appointment.
4. Combining telehealth and tech innovation
Combining telehealth and tech innovation can be potentially beneficial for pregnant mothers. It can:
Enable early detection of pregnancy complications
Reduce hospitalizations and C-section deliveries
Optimize high-risk pregnancy treatment
Mitigate the risk of infection due to hospital visits
Save money through remote monitoring
REAN: Transforming Maternal Care With Technology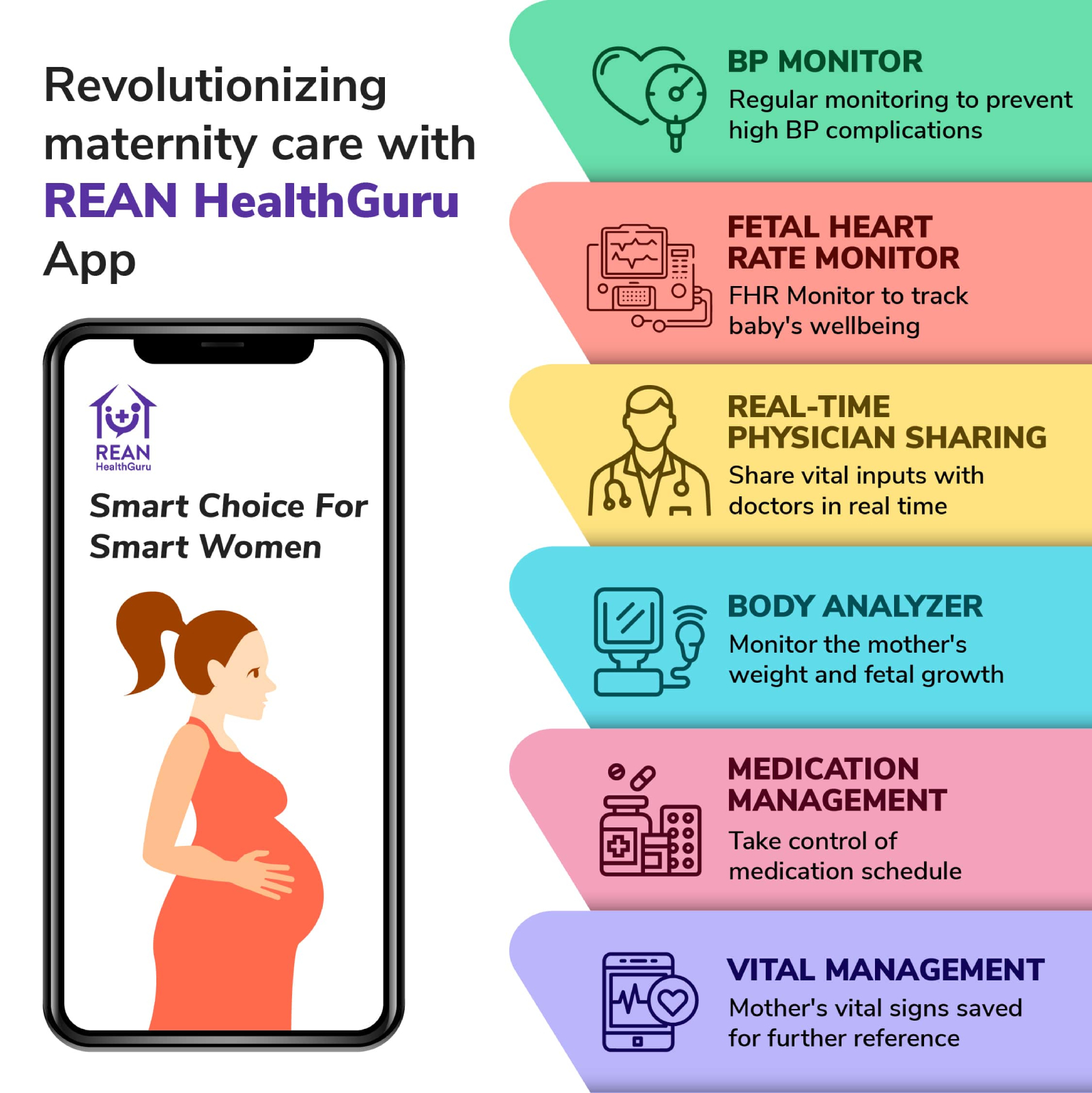 Thanks to technology, our maternity care system is poised for a dramatic transformation that could deliver significant improvements for mothers and hospitals. REAN HealthGuru app is loaded with features to make the lives of pregnant women easier. Our app's features include:
Vitals management to monitor body vitals such as blood pressure regularly and prevent complications due to abnormal BP parameters.
Medication management that empowers individuals to take control of their medication.
Diet management that encourages expectant mothers to have a wholesome diet with the right amount of nutrients
Fitness management with the help of simple prenatal exercise videos that pregnant women can practice
Mindfulness programs that help calm the minds, reduce pregnancy-related anxieties and improve sleep patterns.
The data collected by REAN HealthGuru app is directly updated into the patient's healthcare records. Physicians have access to a dashboard that displays all the patient information and allows them to set customized targets. The readings provide real-time updates about the progress of the pregnancy, which can be helpful to mothers and doctors.
REAN HealthGuru App helps women take charge of their fertility, pregnancy, and post-pregnancy journey. It is a smart choice for smart mothers-to-be!
About The Author