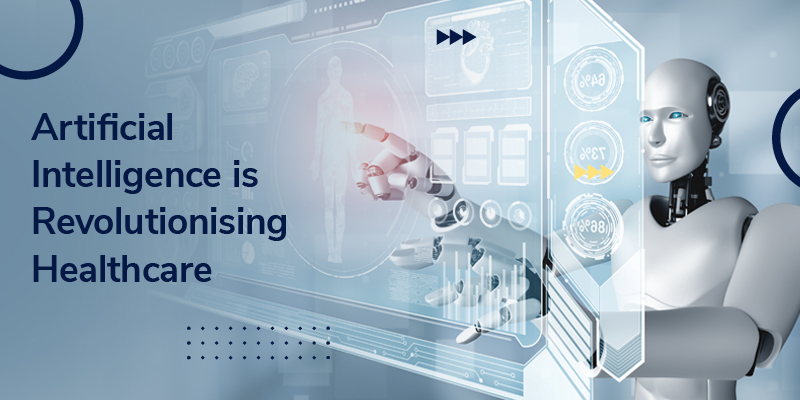 Artificial Intelligence is Revolutionising Healthcare
Artificial Intelligence is transforming the way the technology is used in the healthcare and wellness industry. Impact of science on our daily lives is growing rapidly with a sharp increase in collection of data through wearables and health apps, and improved algorithms. Thanks to regular monitoring of health vitals and symptoms, the medical fraternity is able to work with increasingly improved insights about the way the human body works and how it handles the effects of today's fast-paced lifestyle.
With the introduction of digital technologies in the healthcare sector, regular health monitoring and care management at home has gained rapid traction across the globe. The recent outbreak of COVID-19 pandemic further increased the dependence of the healthcare sector on virtual technologies. This trend has fuelled the usage of artificial intelligence and machine learning technology in the healthcare industry. AI offers many advantages over traditional analytics and traditional decision-making techniques used by clinicians.
According to Precedence Research, the global artificial intelligence in healthcare market size is expected to hit around US$ 187.95 billion by 2030 and expanding growth at a CAGR of 37% from 2022 to 2030. Countries across the globe are struggling with the increasing numbers of hospital admissions due to increasing prevalence of various chronic diseases as well as rapidly growing geriatric population, prompting the healthcare industry to deploy more precise, efficient, and impactful interventions at exactly the right moment in a patient's care. Machine Learning algorithms can become extremely accurate as they interact with training data, allowing humans to vastly improve diagnostic accuracy, care processes, and patient outcomes.
Here are a few technologies and areas of the healthcare industry that can use artificial intelligence to improve outcomes.
HELPING PEOPLE ADOPT AND MAINTAIN HEALTHY LIFESTYLE
AI is being used extensively in helping people adopt habits for a healthy lifestyle, reducing the need to visit the doctor. The use of AI in wearables and health applications is already helping people improve quality of life.
Health technology applications put users in control of their health and well-being. They encourage healthier behaviour among individuals. This awareness allows people to proactively take steps to reduce the risk of disease.
Additionally, AI increases the ability for healthcare professionals to better understand the day-to-day patterns and needs of the people to be able to provide better support for staying healthy.
EXPANDING ACCESS TO CARE IN UNDERSERVED OR DEVELOPING REGIONS
Populations living in remote, under-developed areas suffer due to shortages of trained healthcare providers, including ultrasound technicians and radiologists. This unavailability of skilled medical professionals can significantly limit access to life-saving care. Artificial intelligence could perform some of the diagnostic analysis typically done by humans, thereby.helping in decreasing the impact of this severe deficit of qualified clinical staff.
For example, AI imaging tools can screen chest x-rays for signs of tuberculosis, often achieving a level of accuracy comparable to humans. This capability could be deployed through an app available to providers in low-resource areas, reducing the need for a trained diagnostic radiologist on site.
Also Read: Health Issue due to Sleep Deprivation
USING SMARTPHONE IMAGES TO DETECT ILLNESSES AND SCREEN DEFICIENCIES
Technology companies and medical research organisations are working together to create AI that uses images taken from smartphones as a supplement to clinical quality imaging – especially in remote, underserved areas and communities.
With the influx of mobile phones with high resolution cameras, smartphone clicks are being used for analysis by artificial intelligence algorithms. Leading this trend are Dermatologists and Ophthalmologists.
About 40% of pregnant women and 42% of children around the world are anaemic. Screening anaemic patients before it reaches a severe condition can save many lives. REAN Foundation is creating an application that uses artificial intelligence to detect the condition in a non‑invasive manner using images of conjunctiva (eye), nail, palm and tongue. The app will enable patients in remote areas or those dealing with chronic anaemia to monitor themselves to know when they need to get tested, adjust their medication or receive transfusions.
IMPROVING PATIENT MANAGEMENT AND CLINICAL DECISION MAKING
Managing care of chronic disease patients and hospitalisation during acute events costs a lot. AI is the answer for managing chronic care at home, effectively monitoring the condition to check any deterioration and enable the patient's family and medical team to plan proactive, predictive interventions.
Artificial Intelligence based care management infrastructure revolutionises the process as it is powered with predictive analytics and clinical decision support tools that raise red flag as soon as any deterioration in disease symptoms is observed or any sudden deviation in the vitals is recorded. This helps care providers to act quickly.
AI can predict seizures and provide early warning for conditions like sepsis. Machine learning can also provide insights to help with decisions around whether or not to continue care for critically ill patients, for example those who have entered a coma after cardiac arrest.
Artificial Intelligence can help health and wellness professionals take a more comprehensive approach towards disease prevention and management. With the ability of pattern recognition, software can identify individuals at risk of developing a health condition or predict if it would deteriorate due to lifestyle, genetic, environmental, or other causes. AI and ML can help doctors coordinate care plans for better patient outcomes. Learn how REAN HealthGuru bot helps clarify doubts and provides expert advice to prepare individuals for day-to-day health management while assisting to deal with any medical emergencies.
About The Author