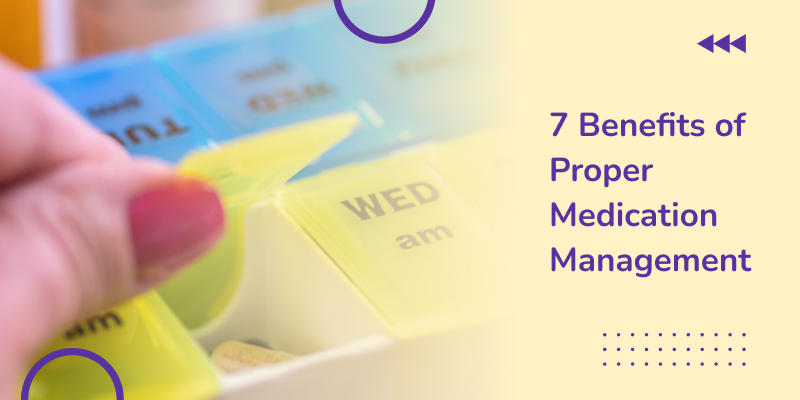 7 Benefits of Proper Medication Management

Medication Management: Is it as Easy as It Sounds?
How many people worldwide take medication? A Centres for Diseases Control and Prevention (CDC) report conducted in 2015-18 states that 24% of people rely on three or more drugs every month. At least 12.8% take five or more prescription medications to manage diseases or disorders.
Now here's the million-dollar question: Is everyone diligently taking their prescribed medications as per their doctor's advice? Patients may say, "Easier said than done," - which is valid for those dependent on several drugs daily. However, medication management is a must, for most are prescribed keeping your present and future health requirements in mind.
What is Medication Management All About?
Medication or med management is the controlled accounting of the medication taken at a specific time. The medication includes everything from herbal and vitamin supplements, injections, ointments, ear, eye, or nose drops, to all prescription drugs.
Research conducted a couple of years ago reveals that over 20,000 drugs are approved by the FDA for medical treatment, with many more being approved every single year.
Medication management has one cardinal rule: All medications should be used only as prescribed by your physicians. Mismanagement practices such as overdosage, underdosing, or completely avoiding medication intake can result in disastrous consequences. The very objective of medical management is to derive maximum benefits for optimum results rather than misuse the drugs and make them life-threatening. Despite the general awareness, millions of people in the US experience adverse outcomes due to mismanagement. Even worse is the fact that thousands of them die due to careless medication errors.
Such numbers clearly highlight the fact that medical management is an absolute must. Basically, the practice aims to:
Ensure the safety and efficacy of pharmaceutical therapy
Make it appropriate for the recommended duration
Ensure it aligns with the patients' evolving health requirements and risks
Ensure proper usage of each medication to achieve optimum outcomes
Good medical management is driven by several factors:
Efficacy and dosage of drugs
Medication adherence
Ease of self-administration
Powerful drug interactions
Minimal side effects
Although the prime objective of medication management is to eliminate problematic symptoms, the benefits of medication management are more than most people realize. Let's delve into the advantages of good med management or medication adherence.
Top 7 Benefits of Medication Management
When planned with perfection and executed with sincerity, med management helps you:
1. Remain actively involved in your recovery journey
A med management regime puts you in collaboration with a team or keeps you under expert supervision to continuously monitor, assess, and modify your medication intake. This proactive approach is a two-way process that works only with your participation and input, thereby making your involvement a must. Furthermore, the continuous support from the medical team keeps you engaged with your recovery process.
2. Achieve your health goals
Active medication adherence and management also translates to:
Elimination of dangerous and unnecessary medication
Mitigation of harmful drug interaction
Maintenance of dosage to a practical minimum
Modification of medications whenever necessary
Prevention of mild or severe side effects
These factors collectively lay a solid foundation for your entire treatment, thereby moving you closer to your health goals.
3. Optimize your medication routine for better results
There's no one-size-fits-all regimen for med management, which is why it requires a detailed review of your current prescription and health conditions to ensure its safety and efficacy. Your medication routine is fine-tuned to:
Ensure that every medication actively contributes to your well-being without affecting your health.
Help you achieve the main objectives of your medical treatment
Assist you in maintaining your recovery process
4. Enhance the effectiveness of therapy
Medication management is an ongoing process. The primary focus is to successfully recover from a short-term illness or effectively control a chronic disease by improving the treatment efficacy. This objective is achieved by ensuring:
An effective regimen based on your medication goals and conditions
Timely medication intake and dosage as per your doctor's prescription
5. Ensure fewer side effects
There's a higher potential for drug interaction when you depend on multiple medications, increasing the risk of side effects. However, good medication management encompasses all safety aspects, such as:
Efficacy and safety of the medications
Possible drug interactions and side effects
Possibility of negative interactions with over-the-counter medication
Possibility of medication duplicity
Analyzing how your medications interact and how well they align with your lifestyle can effectively diminish undesirable side effects.
6. Ensure medication adherence at your convenience
Consistent medication adherence is not only beneficial but also a great convenience. Once you familiarize yourself with a routine, the practice is easier to follow. In the course of time, it improves patient use and ensures accurate administration of all medications.
7. Ensure medication adherence for elderly family members
Most senior citizens relying on multiple medications will find it harder to keep up with the dosage and intake schedule. Older people are particularly susceptible to medication errors due to the combination of changing health needs associated with aging. In such cases, medication management becomes the saving grace for elderly members of your family.
Simplify Medication Management With REAN HealthGuru
Medical management may require a bit of effort and time, which is where most people struggle. REAN Foundation's AI-powered HealthGuru app simplifies the practice with its smartly designed features. The app's design resembles a virtual pillbox that alerts you to take your medications as prescribed. Our app has additional features such as:
Notifications for drug interactions to warn patients not to take their medications with certain food items or combine them with other drugs.
Options for caregivers to add multiple prescriptions for more than one person.
Bilingual options in Hindi and English to enable better communication. This option will soon be available in other regional Indian languages.
REAN HealthGuru Bot is your digital solution for ensuring better med management and achieving optimal therapeutic outcomes, medication reconciliation, and minimizing the risk of drug interaction. To know more about our app, get in touch with us today.
About The Author