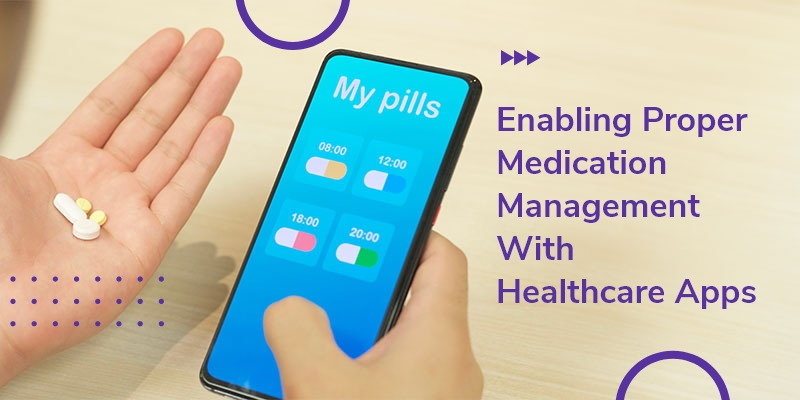 Enabling Proper Medication Management With Healthcare Apps

Skipping your medication once is understandable; twice is forgivable, but more often than not is very risky. Medication non-adherence is no joke. Studies warn that it is the culprit behind more than 125,000 deaths and the reason for almost half of the treatment failures in the US alone. There appears to be a solution in sight, fortunately, thanks to digital evolution. 
Medication Management: The Crux of Healthcare
Most often, people blame forgetfulness for medication non-adherence. However, factors like ignorance and intricate medication plans are also contributing factors. Nevertheless, all this is set to be a thing of the past. The use of healthcare apps by patients, providers, and healthcare organizations has increased rapidly with the advancement of smartphones and tablets. 
Why is Medication Management Important?
Sometimes, elderly people and chronically ill patients may have to take medication for the rest of their lives or for a long duration. In such cases, medication management becomes an important part of their overall healthcare plan, especially when they have to take multiple medications to treat multiple disorders. 
The plan is critical to their ongoing care, as medication intake can positively and negatively affect patients. Depending on a number of factors, the patient may need help managing on their own. Moreover, only a few patients understand the medication schedule, or it may be too complicated to manage alone. 
Ultimately, proper medication management ensures that the patient attains the benefits of the medication and a positive healthcare outcome. Unfortunately, that doesn't seem to be the case. Studies have shown that at least 40% of patients do not bother replenishing their medicine dosage, and approximately 44 out of 100 prescriptions are not collected from the pharmacy. 
Obviously, the question that crosses our mind is, " Why is it so difficult to maintain medication adherence?" Well, there are a host of other reasons than the ones mentioned above, which include:
Dosage calculations, such as cutting pills into quarters or halves

Complicated medical storage containers

Drug interactions and storage frequency

Frequency of medication intake in a day

Intake restrictions (medication must be taken with/before/after food or at certain times)

Work or social restrictions ( restricted from operating heavy equipment, driving, or alcohol consumption)
It is apparent that there is no medication adherence is a must. The solutions for this predicament are in the form of healthcare mobile applications and patient engagement startups. How so? Let's unwrap the details. 
Improving Medication Adherence Via Healthcare Apps: The Possibilities 
In the current digital era, there's an app for almost everything. Hence, it's no surprise that there's a dramatic increase in the number of healthcare mobile apps that facilitate medication adherence. 
A study in 2021 revealed more than 350,000 healthcare apps in the market. Approximately one in five people download mobile health (mHealth) apps. These numbers would have significantly increased in the past couple of years. A systematic review also revealed that mobile apps created for medication adherence facilitated the purpose with the appropriate tools for home-based medication management. 
Furthermore, there is increasing evidence given by patients themselves who report an improvement in medication adherence. Patients who find mobile healthcare apps helpful in managing their medications increasingly value them. This increase in value and usage has created new and more effective mobile apps exclusively for medication management. 
Gone are the days when patients received calls to remind them to take their medications. Yes, these calls had a profoundly positive impact on medication adherence. However, technology has made things easier, simpler, more accessible, and above all, more user-friendly, even for the most non-tech-savvy senior citizens. 
Healthcare mobile applications play a powerful role in improving medication adherence for the elderly because most of them own cell phones. Nowadays, most medication adherence mobile apps come with:
Notifications or alerts to remind users to take medications

Monitoring vitals like body weight, BMI, blood pressure, blood sugar levels, etc.

Refill reminders to alert periodic refilling of medication dosages.
Such incredible features have increased the reliability of mobile healthcare apps to such an extent that the global mobile health app market is predicted to quadruple in value between 2020 and 2026. 
Hence, there is a big probability that you could soon be looking for a medication-tracking healthcare app for yourself or your loved ones. Check out the guidelines that help you pick the right app from the thousands of available apps. 
5 Criteria to Consider in Mobile Medication-Adherence Apps
Any errors in medication reminders and dosages can lead to serious health consequences for the patients. Hence the app you choose should have accurate information, reminder, and alerts for refills and timely dosages. It should also have drug interaction warnings.
Look for core and tangential features like the following to improve your app experience and purpose:
Detailed time and dosage tracking

Automatic notifications or alerts

Symptom tracking

Doctor's appointment tracker

Health progress tracer

Potential side effects

Treatment insights
Patient information security
Check if the app conforms to mandatory HIPAA regulations to protect patients' Personal Health Information (PHI). Also, check if the app saves your personal information with solid information methods and storage protocols. 
Check if your app is compatible with:
Your smartphone or tablet

Your device's operating system

Wearable devices 

Other health, nutrition, or fitness apps

Your personal medication routine
If the app has the integrations needed to sync with your fitness devices and your routines, it will easily sync with your daily schedule. 
When it comes to cost, there are four options to choose from:
Upfront payment

Subscription costs

Insurance plans

Completely free of charge
Pick the most friendly option for your budgeted medication management. 
What are the other benefits of investing in a mobile app that helps manage medications? Let's check it out.
5 Benefits of Using Mobile Medication Adherence Apps
A well-defined mobile medication management helps you:
Keep track of your medication regime wherever you are

Take medication on time and provides convenience like no other.

Improve your effort in keeping track of your medication.

Reduce errors like incorrect or missed dosages.
It also:
Allows doctors to access patient's medication routines and habits

Enables speedy intervention non-compliance.

Warns users of adverse effects of multiple medication intake with the help of drug interaction checkers.
Rean Foundation HealthGuru App: Your Solution For Medication Adherence
Regarding medication-adherence mobile apps, Rean's HealthGuru surpasses all other options. Our app covers all the fine details and aspects you want to expect from an app, such as:
User-friendliness

Seamless functionality

Full data security

Appointment scheduling

Medication tracking

HIPAA compliance

Customizable to suit your routine
Rean's HealthGuru links doctors and patients with a seamless communication bridge to enable better patient engagement. 
Revolutionize Your Medication Management With REAN HealthGuru
In this high-tech digital era, mobile app technology has made itself indispensable in many areas, including medication management. Irrespective of age and ailment, many people rely on these apps for medication adherence, mainly because of its convenience and user-friendliness. 
Rely on REAN HealthGuru to stay on track with your or your loved ones' medication schedules. Do not take medication non-adherence for granted. Be smart and stay healthy with REAN Foundation.
About The Author