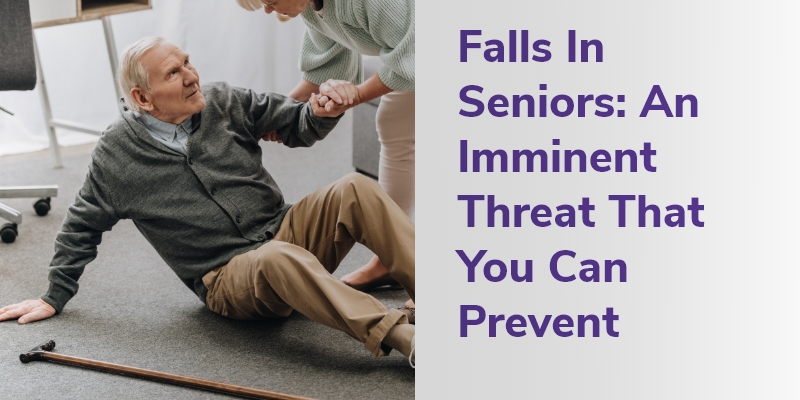 Falls In Seniors: An Imminent Threat That You Can Prevent
Did you know that at least one elderly citizen falls every second of the day? Yes, it's true. It is a grim reality that falls are becoming more prevalent, especially in seniors battling chronic conditions.
For children, falling, picking themselves up, and getting back on their feet is literally child's play. However, the same cannot be said for seniors. When older people fall, it mostly ends up as a serious health hazard. A fall can result in injuries of varying seriousness- from fractures, bleeding, and bruising to internal hemorrhages and even death. Very few seniors are lucky enough to survive unscathed after a fall. Being a major concern for senior health, many studies and statistics are exploring its finer details.
What The Numbers Say About Falls In Senior Citizens
The Centre for Disease Control and Prevention (CDC) warns that fatal falls among the elderly are rising in the United States. A study says that one out of three seniors living at home falls every year. Even more appalling are the statistics given by the WHO (World Health Organization). It states that an estimated 684,000 fatal falls happen every year, making it the 2nd leading cause of accidental injury after road accidents.
Other statistical reports concerning falls in the elderly are equally dismal:
Nearly 40% of all injury-related deaths can be blamed on falls. This rate may vary with each country and the studied population. In the US, in particular, the fall fatality rate amongst the elderly stands at an average of 36.8/100,000 people. The women rank at 31.1, and the men score higher at 46.2.
Falls cause 20-30% of mild to severe injuries. Amongst the injured visiting hospitals for fall-related injuries, at least 50% of them are elderly citizens above 65 years.
Hospitals state that fall-related admissions are on the rise and the most common reasons are hip fractures, brain, and upper limb injuries.
Every year at least 3 million senior adults reach out to hospitals for treatment after being injured in a fall.
Even small falls are dangerous for seniors. Adults who are 70 plus are three times as likely to die following small, low-level falls. For people of this age category, a small fall can result in a broken hip. Recovery can be painfully slow, and other chronic conditions can hamper their recovery process.
The CDC reports that falls are a major public health problem. Even getting anxious about falling is as dangerous as the actual fall and its devastating consequences for senior citizens. This brings us to the question, " Why do the elderly fall?" Of course, age is the prime reason, but that alone is not the culprit.
Also Read: Dealing With Anxiety - Can Your Diet Make The Difference?
Why Are The Elderly More Prone To Falls?
Experts blame several other reasons other than aging that are causing falls in seniors. This non-exclusive list of conditions is prevalent among older adults and can result in falls with grievous injuries.
Balance is a common problem for seniors. It can be exacerbated with chronic conditions such as diabetes, stroke, and high or low blood pressure. Balance disorders can also occur if the person has issues with the inner ear, a previous head injury.
As they age, many adults become less active and fail to engage themselves even in mild exercises. Lack of physical activity can worsen the effects of aging, resulting in obesity, reduced muscle strength, loss of bone mass, poor coordination and flexibility.
An older adult's reflexes are slow because, with age, the two sides of the brain have a difficult time coordinating and communicating with each other. This leads to a slower response time and hampers the person's ability to react quickly enough to save themselves from falling.
Age-related eye problems can pose a major hindrance for even seniors in top physical condition. Not to mention their negligence of timely eye care and refusal to wear glasses can only make them more prone to falls. Such issues can make it challenging to detect dangers like puddles, steps, and thresholds. Seniors may even find it difficult to detect slight changes in ground levels, leading to a nasty fall.
Old age is not a disease. But it is a phase where one is susceptible to a host of chronic and degenerative health problems. Diseases like arthritis, Alzheimer's, and Parkinson's can render the person weak with poor strength, grip, and balance in their limbs. Take expert advice on how to prevent chronic disease since such debilitating diseases can also cause cognitive impairment and minimizes their ability to respond in time .
The elderly population is highly vulnerable to falls due to poor lighting, slippery floors, loose carpets and rugs, cluttered areas, and lack of safety equipment. Any of these environmental factors can endanger the safety of your elderly loved ones. That said, there is no saying how serious the circumstances can become when these factors combine. The fear of falling again always plagues seniors who've recovered from a bad fall. It is one of the reasons why they become withdrawn and sedentary, which often leads to physical and mental decline.
Besides, many senior citizens believe that their home is the safest place to avoid falls. Unfortunately, over half of all falls take place right at home. Experts list some specific risk factors that make older people highly vulnerable to falls. They are:
Diabetes- A major culprit is unchecked and uncontrolled diabetes. The chronic disease affects the eyesight and causes numbness of the limbs. Low blood sugar levels can also induce dizziness.
Incontinence- Elderly with poor bladder control may want to hurry to relieve themselves. This can increase the risk of falls, particularly at night.
Hypotension- It can cause light-headedness, dizziness, and unsteadiness.
Postural hypertension- The blood pressure can drop without warning when older adults change their position from sitting to standing.
Weakness- Muscle weakness is common among seniors who haven't been physically active for many years.
Medication- Older people who take any medication with sedative effects are prone to falling.
So, what happens when an elderly person falls? Let's understand what has to be done when we face such a situation.
Caring For The Fallen- Quick Steps To Save Your Elderly
The foremost thing one must do as a caretaker is to call for an ambulance or schedule a doctor's appointment. An elderly person who has had a bad fall will be in a lot of pain and fear. It is at times like this they seek the assurance and presence of their loved ones. Hence, ensure that you accompany them to the hospital and encourage them to stay calm by taking deep breaths.
Senior care technologies support emergency preparedness by monitoring the basic health vitals instantly. Before help arrives, you may examine them for bruises, bleeding, and fractures. But take care to handle them very gently. It is wise to keep them seated until they are confident enough to stand and move. Look out for sudden pain or injuries until they are safely under medical care.
Safeguarding Your Elderly From Disastrous Falls
Finally, it all boils down to one question- "Is falling inevitable as we age?" The CDC assures us that " Falls are not an inevitable part of aging." There is no doubt that age and fall are closely associated with one another. That said, it does not mean that every aged person has to suffer a fall.
There are preventive measures that you can follow to keep your elderly family members safe and sound.
It is the best way to keep them mentally alert and physically strong enough to avoid falls. Especially seniors should practice flexibility exercises daily as part of their daily routine.
Give them a cane, a walker, and any smart device to alert you when they need help.
Ask their doctor for details about their medication and be aware of those that cause dizziness, sedation, and drowsiness.
Make sure your elderly loved ones follow a nutritious diet that promotes bone and muscle strength. Encourage them to maintain an optimum weight.
If you have elderly family members at home, it is always wise to be safe than sorry when they fall. Follow these simple steps to make your home a safe environment for the elderly:
Fortify the shower and the restroom with anti-slip bath mats.
Secure rugs and carpets with double-sided tape.
Ensure ample lighting, especially for the stairs, corners, and small spaces.
Install grab bars in toilets and staircases.
Keep your home clutter-free.
Above all, encourage your elderly members to stay physically active and proactive in managing their health. REAN Foundation has been at the forefront of empowering senior citizens with easy-to-use healthcare platforms. To know more, visit us @ https://www.reanfoundation.org/.
About The Author