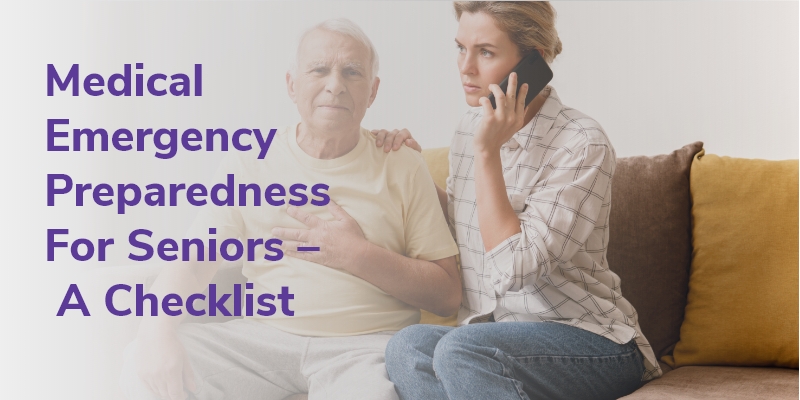 Medical Emergency Preparedness For Seniors - A Checklist
Emergencies with the elderly: A common occurrence
Old age and emergencies are tied together. It is not a curse. It is inevitable. But that does not mean that once a person celebrates their 60th birthday, they are likely to encounter an emergency. But as age increases, there is a slow decline in body vitals and faculties. This decline is profound in some seniors and almost imperceptible in others.
Aging impairs physical mobility and sensory awareness. Seniors are more likely to have chronic health conditions. It is only natural for a strong, healthy body to become frail and vulnerable to all kinds of dangers as age creeps in. The best solution for seniors to handle such circumstances is to be well-prepared before the worst happens.
What is emergency preparedness for seniors?
Emergency preparedness for the elderly involves plans or actions taken well ahead of time to help seniors effectively handle emergencies. It takes a bit of foreseeing to make plans for unforeseen situations. However, emergency preparedness makes the elderly mentally and physically prepared besides enhancing their safety.
Why is emergency preparedness important?
The answer is simple- It keeps them alive and safe. Training your elderly loved ones about handling an emergency ensures they get timely help without chaos and panic. In addition, emergency preparedness increases the self-confidence of seniors living alone and those more vulnerable to mishaps.
List of things to do for senior emergency preparedness
Emergencies can happen at any time, and the chances are more likely with seniors in your home. Our emergency preparedness list comprises important but simple things to help seniors be on guard.
Have an emergency medical kit
An emergency medical kit is a must-have. The medical kit we suggest is more advanced than a mere box of Band-Aids, a few tablets, and ointments. A senior medical emergency kit ought to have:
Medical equipment to monitor blood pressure, blood sugar levels, an extra pair of spectacles, dentures, hearing aids, and hearing aid batteries.
3-6 day supply of crucial medications, doctor's prescriptions, insulin, asthma inhaler, and other important life-saving drugs prescribed by his/her doctor.
Copies of medical records, doctor or hospital emergency numbers, medical insurance details, list of medication allergies, if any.
Have a support network
Seniors living alone must have a trusted support network of friends, neighbors, and other family members living close by to rely on during an emergency. It is also the responsibility of children to ensure the same for their aged parents. A support network is crucial for everybody because you might not always be nearby when an emergency strikes. In addition, members of the support group should be well-informed about medical supplies, devices, and contact numbers.
Make an emergency contact list
It is essential to make a list of phone numbers of nearby hospitals, family doctors, family members, and neighbors. All these numbers should be saved on the phone and written in big, bold letters and pinned in every room. Any change in numbers should be updated immediately.
Keep calm and do not panic
Another critical aspect of senior emergency preparedness is to train the aged and other family members to remain calm when such a situation arises. Confusion and panic will only worsen and delay the process. The very first thing one ought to do is to reach out for the phone and call the emergency numbers.
How technology can help in emergency preparedness
Technology has indeed come a long way over the course of a senior adult's life span. Thankfully they may be aging at the right time because technology has never been as effective for elderly care as it is today. Let us look at some of the senior care technology aids that can help with emergency preparedness for seniors.There are also times when technology can assist in practicing flexibility exercises for seniors that make them fit, thereby preventing any age-related emergency issues.
GPS Tracker
GPS may come in handy to help locate a senior who may be lost. Especially with elders suffering from dementia or Alzheimer's, being able to locate them is critical. The Alzheimer's Association notes that if a person is not located within 24 hours, at least 50% of the adults who wander may suffer a serious injury or even death.
Cameras / Motion sensors
Cameras or motion sensors installed at different locations within the living space can help monitor the movements of seniors with physical or mental health issues and observe their behavioral patterns. Modern-day sensors are sophisticated enough to spot changes in tendencies and duly alert the caregivers.
Emergency Response System (ERS)
Any elderly adult who is staying alone must have a personal emergency response system. This portable/wearable device enables the wearer to send out SOS signals at the touch of a button.  As a result, seniors, their caregivers, or family members can feel safe and assured that the ERS could facilitate help in an emergency caused by falls in seniors.
Enhance your elderly care with REAN Foundation
REAN Foundation offers you a great solution to be added to the list of emergency preparedness for seniors. We offer you a smart platform that provides quality care from the comfort of your home by virtual interaction with your elderly loved ones. REAN platform is designed to enable senior citizens to effectively manage daily care activities and better prepare for medical emergencies. To know more, get in touch with us.
About The Author