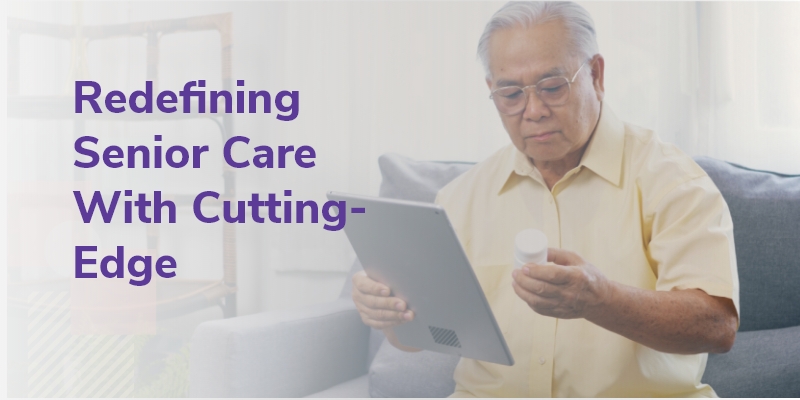 Redefining Senior Care With Cutting-Edge Technology
The Inherent Need For Efficient Senior Care
If it weren't for technology, senior citizen care would've had a very bleak future. Are you wondering why? With the number of senior healthcare assistants dwindling steadily and the COVID19 pandemic posing to be an ominous hurdle, the safety of the senior members of the society has become questionable.
Thankfully technological advancements of the 21st century have bridged the unhealthy chasm, and fortunately, those who have recently stepped into the threshold of seniority are quite tech-savvy. Elderly care is no longer a burden with the latest technology that helps to avoid emergencies caused due to falls in seniors by assisting them in practicing their daily exercises in order to make them stay fit and active. The advent of wearable smart IT devices, mobility solutions, sensors, and hi-tech gizmos and contraptions has simplified senior care, making it easy and efficient for those who look after them.
The tech market has so much to offer to enhance the efficiency of senior care. For the uninitiated, this blog holds a treasure trove of information.
Unlocking The Role Of Healthcare Apps In Empowering Patients
Given the current scenario, healthcare systems worldwide are already stretched beyond their limit, and there is no promise that senior citizens will have access to dedicated caretakers. This exhausted system could benefit immensely with improved accessibility to elderly care tech devices that can boost the well-being of senior citizens. As per the World Health Organization, by 2050, the ratio of caretakers to caregivers for the elderly who fall in 80+ age group will be 3:1
Elderly Care Shortcomings: What's Impacting Healthcare for Senior Adults?
The past few years have witnessed a scarcity of senior healthcare providers. In fact, over half of all direct care providers quit their jobs every year. This exodus results in multiple caregivers taking care of older adults in a single year. Without immediate action, this shortage of caregivers is likely to worsen.
So, what else does the market have in store for senior care? Let's take a look.
Blame it on the modern family system or the ambitious children who seek greener pastures; the number of independent seniors in the society is steadily on the rise. Those who live away from their aging parents can now breathe a sigh of relief, thanks to the numerous medical-alert systems available today.
Procurable in various wearable forms as anklets, bracelets, or simple home units, these devices allow the elderly person to immediately raise the alarm in case of any trouble. This smart technology is also available as attractive watches, pieces of jewelry, or even smartphone apps.
Some of the most recently launched devices are far smarter than their predecessors. These devices are designed to meet the emergency preparedness for senior citizens that monitors the person's activity levels, heart rate, blood pressure, and blood glucose levels instantly. Access to this vital information gives caregivers and seniors a clear picture of their daily health status. Wearable devices also track the location through GPS and alert the caregiver if the person has wandered away from their safety zone. Such devices are a blessing for those handling seniors with
In simple terms, the interconnected web of electronic and digital devices makes up the "Internet of Things." The use of internet-connected devices is in vogue. It starts with something as simple as your smartphone to the computer system, smart TV, smart home devices, smart car, etc.
By harnessing the potential of the Internet of Things, senior care can be stepped up in many ways. Smart locks and cameras can ensure the safety of seniors who are home alone. Smart sensors alert caregivers if seniors have forgotten to turn off the bedroom light switched or the kitchen faucet. Voice-activated smart assistants like Alexa and Echo are proving to be extremely handy for wheelchair-bound or bedridden seniors.
In these pandemic-ridden times where it is imperative to keep seniors safe, Telemedicine is a tech advancement that is truly a blessing in disguise. Telemedicine has gained tremendous popularity in the medical world, allowing doctors and medical professionals to continue their treatment and consultations via video conferencing.
With this remote technology, doctors can monitor their senior patients from any location, get regular updates, and give emergency medical advice if the need arises.
Another great advantage is the countless number of apps available today. There is an app for everything, and seniors can download the ones that will benefit them. There are apps to send reminders for medication intake, monitor blood pressure, heart rate, and activity levels, chart out diet programs, and share their medical updates with family members and caregivers.
Cloud-based health information tracking systems are a boon for the elderly community to store and access vital health information, medical history, and medical schedules. Smartphone apps that send reminders about medication timings and refill timings are indispensable for all seniors. Such apps not only persistently remind the patients but also lessen the pressure on the caregivers who have to be on alert. These apps have played a huge role in preventing medication errors and incidents of missed medication.
How Does Technology Benefit The Elderly ?
Automatic Pill Dispensers
Medication non-compliance is a major concern among the elderly, who depend heavily on prescription drugs for many ailments. It is extremely dangerous to overdose, underdose, take drugs at the wrong time, or forget about them completely, whether it is intentional or not.
One of many devices to help the elderly is a hi-tech automatic pill dispenser that solves this problem. In addition to alerting the person, these devices can deliver the appropriate medication dosage at the right interval. Using the gadget, caregivers just have to feed pills into it and select a schedule. The latest pill organizers can communicate with PCs and smartphones, allowing medication management from anywhere.
Artificial Intelligence
According to statistics, the world will have more than 27 billion IoT-connected devices by 2025. This digital advancement will pave the way for more R&D in creating home care devices for the elderly.
AI, specifically, will play an indispensable role in designing eldercare devices like sensors and voice assistants. Caretakers can monitor frail elders' movements inside their homes with AI-powered sensors. Furthermore, using voice assistants will be a blessing for differently-abled seniors to control lighting, doors, and home appliances. In the near future, healthcare app developers will be able to target such areas of innovation relating to smart technology for the elderly.
Augmented Reality and Virtual Reality (AR/VR)
Companies are increasingly using virtual and augmented reality technologies to develop smart technology for the elderly that specifically aids those undergoing physical therapy or post-operative care. Neuro Rehab VR, a leading XR therapy provider, has designed a VR experience for elderly citizens affected by neurodegenerative disorders, or those undergoing physical therapy after a stroke, or brain and spinal cord injuries.
With the help of Machine Learning, the company customizes the physical therapy plan per the patient's needs and abilities. In addition to tracking physiological and kinematic responses, the personalized virtual therapeutic activities provide scores and metrics to track the patient's progress and provide a more engaging experience.
Robotic Assistants
And finally, it's robots to the rescue! Tech firms are busy developing robotic devices to do certain tasks that require caregivers, such as:
1. Helping senior people in times of emergency
2. Helping in senior medication management
3. Helping seniors perform their daily tasks
4. Monitoring seniors during their exercise routine
In conclusion, science and technology are making significant strides in creating amazing solutions and apps for elderly care and in resolving the shortage of caregivers worldwide.
Also Read: Do We Need to Move Focus from Curative Medicine to Preventive Medicine for Better Health?
21st-Century Technology: More Of A Boon Than A Bane For Senior Citizen
Nothing can stop the advancement of technology, and it will continue to be an indispensable part of all our lives. Even the World Economic Forum statistics show that 70% of seniors are embracing this growth by staying connected to the internet and being tech-savvy than ever before. Many elderly citizens are adapting to the convenience and comfort of being technologically connected.
Innovators and entrepreneurs in the health tech industry bear the significant responsibility of designing innovative systems based on growing trends and needs. Technology can make a huge difference in the lives of your elderly family members by improving their life expectancy, safety, health, and social connections, and thereby enhancing their confidence in the later years of their lives.
At REAN Foundation, we offer you a smart healthcare platform that helps seniors monitor their health parameters and get expert consultation easily and quickly from doctors, and diagnostic centers. We empower seniors, along with their family members, to take care of their health independently. To know more, give us a call! We'd be happy to share more details!