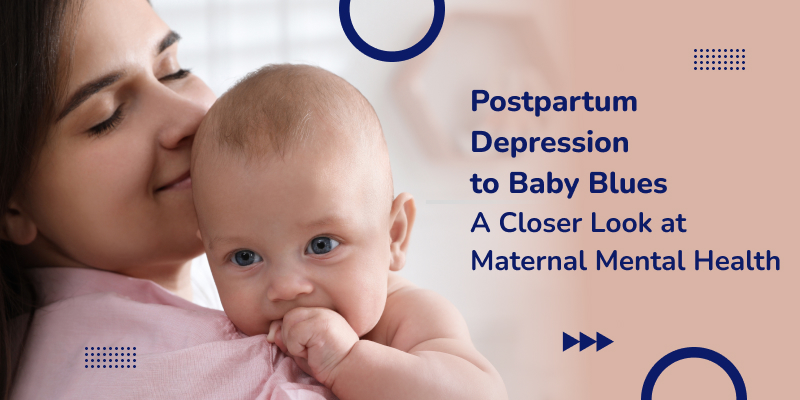 Postpartum Depression to Baby Blues: A Closer Look at Maternal Mental Health

Motherhood is a huge step forward in every woman's life. It is a life-changing experience that physically, mentally, and emotionally changes them. While there is plenty of discussion regarding the physical changes, the mental well-being of new or expectant mothers remains largely overlooked.
There is a general notion that motherhood is a joyous experience. Of course, many women effortlessly adjust to the changes that accompany pregnancy and having a baby. They fearlessly embrace new routines and gracefully restore their bodies to their pre-pregnancy shape and chemistry.
Unfortunately, motherhood is not all hunky-dory for everyone. It can sometimes take a toll on the person's physical and mental health. Yes, poor mental health during motherhood is very much a reality.
Motherhood Diaries: Unveiling the Truth About Maternal Health
Maternal health refers to the well-being of women before, during, and after childbirth, encompassing the crucial periods of pregnancy and postnatal care. The World Health Organization states that 1 out of 5 women undergo mental health issues during or after pregnancy. Medically, these diagnoses are named Perinatal Mood & Anxiety Disorders (PMADs).
Regrettably, healthcare providers are not adequately performing the essential screenings to identify those who are in need of help and provide them with the necessary support. According to recently collected data, a bare minimum of (less than 20%) of new or expectant mothers are assessed for mental health concerns. What makes it even more concerning is that only half of the women who are diagnosed actually receive follow-up care.
The truth is that perinatal disorders are temporary and treatable with the right care and professional help. In the current scenario, the immediate necessity is to create awareness and provide quality treatment for women suffering from mental health issues.
The Silent Cry For Help: Why Maternal Mental Health Is a Must For Mothers
Much about maternal mental health remains under wraps. Many people do not know that it impacts not only the woman's well-being but also her entire family when the issue is unaddressed. A recent research also says that a mentally affected mother's physical and emotional state can adversely affect her child.
Poor maternal mental health should never be taken for granted. If left untreated, it can end in very unfavorable consequences for the woman, such as:
Poor bonding with the newborn
Poor health outcomes for the infant
Reduced breastfeeding rates
Poor quality of life for the mother
The consequences of inadequate care for poor maternal health are far more devastating than those above. An alarming and unsettling piece of data reveals that the majority of suicides or deaths due to overdosage are by mothers deprived of timely healthcare.
This highlights the importance of identifying and treating maternal mental illnesses, as they often mean the difference between life and death. To prevent the devastating consequences of poor maternal mental health, we must be fully aware of the signs and adopt a proactive approach to caring for mothers before and after pregnancy.
In order to ensure optimal maternal health, it is essential to deeply analyze both its definition and the various factors that have an impact on it.
Also Read: Maternal Health & Child Undernutrition: Challenges & Solutions
Indicative Signs of Maternal Mental Health Concerns
The transition to motherhood is not always a happy experience. It can trigger depression, Obsessive Compulsive Disorder (OCD), anxiety, panic, and many other mental health disorders during or after pregnancy.
As if that's not enough, a rare condition called Postpartum Psychosis (PPP) can surface after childbirth. This birth-related post-traumatic stress disorder is a rare but severe condition that affects about one-tenth of one percent of new mothers.
The strange thing about maternal mental health is that it does not manifest in distinct ways. The symptoms are very similar to pregnancy or postpartum symptoms, such as:
Weight gain or loss
Changes in energy levels
Inadequate or oversleeping
Excessive or diminished libido
Fluctuating emotional state
What's pathetic is that these symptoms mostly go unnoticed by everyone, including the person experiencing them, their family members, and doctors.
Let's take a look at the most common maternal mental health issues that many women undergo:
1. Baby Blues or Postpartum Blues
Baby blues is one of the most common issues affecting at least 80% of new mothers. The problem manifests itself as erratic mood swings driven by high hormonal fluctuations that happen immediately after delivery ( within three to five days). These symptoms usually normalize once the hormonal levels stabilize.
Women having postpartum blues are often irritable, anxious, or overwhelmed by the fact that they have delivered a baby. They can be overwhelmed one minute, extremely happy the next, or may feel they are not up to the task of raising a newborn. Fortunately, these symptoms do not last longer than a few weeks, which is why postpartum blues are not considered a mental disorder.
If the symptoms persist beyond the expected duration or worsen instead of improving, it is possible that the individual may be diagnosed with postpartum depression, a more significant concern. Under such circumstances, it is imperative to seek professional help before the problem worsens.
2. Postpartum depression
Although postpartum depression (PPD) is not as common as baby blues, it is a more serious issue that occurs only after childbirth. The symptoms may occur post-delivery and can last up to a year. PPD is common in about 10-20% of new mothers who experience symptoms similar to clinical depression. Mothers suffering from PPD may exhibit an excessive preoccupation with the child's health or may even have thoughts of inflicting harm on their newborn.
Like many mental health issues, it is quite unclear what really triggers the problem in new mothers. However, research blames the onset of PPD on:
Childbirth, the resulting physical changes, and the responsibilities that come with it can result in mental stress and depression. Other stress-inducing events that coincide with childbirth can make the mother more vulnerable to postpartum depression.
Intense and erratic hormonal fluctuations, such as extremely low levels of serotonin.
Ongoing events like stressful office hours, the relationships between husband and wife, and unresolved issues about pregnancy or childbirth.
3. Postpartum psychosis
Postpartum psychosis is rare and also far more serious than other maternal health issues. A person with postpartum psychosis may experience hallucinations, delusions, manic mood swings, insomnia, unpredictable behavior, etc.
Other symptoms include:
Poor food intake
Hyperactivity
Memory loss
Paranoia
Speech and thought incoherence
Extreme confusion
Obsession over petty things
Irrational speech and thoughts
New mothers experiencing signs of postpartum psychosis must seek help before it spirals out of control.
4. Birth-Related Post-Traumatic Stress Disorder (PTSD)
PTSD or birth trauma is a type of anxiety disorder that occurs when a new mother undergoes traumatic childbirth, such as:
Long, complex, or painful delivery
Emergencies during delivery
Unplanned Caesarean sections
Shocking and unexpected events during childbirth
Symptoms of PTSD usually manifest as:
Numbness and detachment
Unrelenting thoughts about the birth
Anxiety due to disturbing memories
Irritability, unexplained sadness, or fear
Nightmares or flashbacks
While creating awareness about these issues is essential, it is equally important to implement proactive measures to help women navigate pregnancy and postpartum with happiness and peace of mind.
4 Approaches to Support New & Expecting Mothers
1. By utilizing validated screening tools, we can effectively identify women susceptible to maternal mental health disorders. It is essential to conduct screenings both during pregnancy and at regular intervals throughout the first year after giving birth.
2. Educating and spreading awareness about maternal mental health will help everyone understand pregnancy and postpartum changes.
3. Seeking professional help with specialist support services will help identify those women with maternal mental health disorders. These services may encompass a range of options, such as psychological therapies, medication, or participation in support groups.
4. Empowering women to prioritize self-care throughout their pregnancy and postpartum journey. This can involve engaging in activities like regular pregnancy and postpartum exercise, consuming a balanced diet, ensuring adequate sleep, and carving out personal time.
REAN HeathGuru: Your Digital Solution For Better Maternal Mental Health
Pregnancy and childbirth ought to be filled with happiness and exciting moments. When mental issues scar these special moments in life, it is better to opt for proactive measures to prevent you from maintaining your mental health.
REAN Foundation's HealthGuru app is a wonderful digital platform that enables you to track your emotional well-being, mood swings, and signs of pre or antenatal mental disorders. Our app aims to support women by enabling them to effectively monitor their mental well-being during pregnancy and postpartum. By doing so, it empowers you to recognize and tackle any potential concerns at an early stage.
Our HealthGuru app also allows you to communicate with health specialists and give you access to personalized resources to make an informed approach to mental well-being.
About The Author