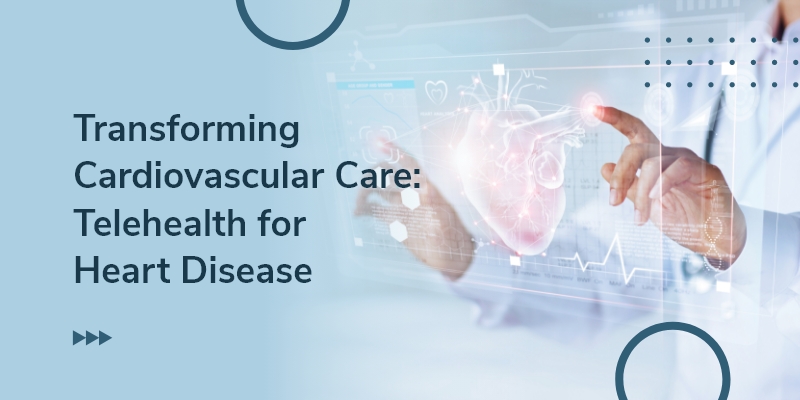 Transforming Cardiovascular Care: Telehealth for Heart Disease

Telehealth has emerged as a game-changer in the field of healthcare, revolutionizing the way we deliver medical services. By leveraging technologies such as video support or structured telephone and remote monitoring of implantable or wearable devices, telehealth enables the remote delivery of healthcare services. This innovative approach has significantly improved the convenience and availability of healthcare, making it easier for patients to receive the advice, treatment, and care they need.
Recent studies have highlighted several barriers that hinder access to cardiovascular care, such as geographic location, socioeconomic status, and educational background. Unfortunately, these barriers have led to a concerning trend of increasing cardiovascular mortality rates. Rural areas, in particular, have experienced higher rates of cardiovascular disease (CVD) mortality, which continues to rise.
Fortunately, telehealth for CVD has the potential to address these challenges and bridge the gap in cardiovascular care. During the COVID-19 pandemic, the utilization of telehealth services skyrocketed, with up to 30% of all U.S. clinic visits conducted remotely in mid-2020. This surge demonstrated the growing interest in and the capabilities of telehealth as a viable alternative to traditional face-to-face care. By eliminating the hurdles associated with geographic location, wealth, and education, telehealth enables healthcare providers to deliver timely prevention services through virtual appointments.
In support of the potential of telehealth, a recently published scientific statement from the American Heart Association (AHA) highlighted its benefits in cardiovascular care. While acknowledging the existing challenges related to technology access, the AHA emphasized that telehealth can effectively provide cardiovascular care while simultaneously reducing costs, enhancing care quality, and expanding access to care.
As we continue to embrace cardiac telehealth, we are unlocking new possibilities for improving cardiovascular outcomes and promoting equitable access to quality care. Let us now take a look at the advantages of telehealth for heart disease in detail.
The Benefits: How Telehealth for CVD Enhances Care and Improves Outcomes
Managing cardiovascular disease (CVD) can be a time-consuming endeavor, demanding frequent doctor visits and the challenge of finding accessible specialists like cardiologists, for instance. Fortunately, telehealth programs have emerged as a highly effective solution for managing cardiovascular disease (CVD). By combining convenience and quality care, telehealth offers a promising avenue for individuals seeking to proactively manage their heart health.
Lesser hospitalizations
Telehealth enables patients to receive timely advice, treatment, and care, eliminating barriers to accurate diagnosis and treatment. Through virtual appointments, providers can deliver preventive services, ensuring routine check-ups are not delayed or canceled.
Decreased burden on finances
Traditional in-office medical appointments often come with additional expenses like tolls, parking fees, and travel costs. Telehealth eliminates these financial burdens, offering patients a cost-effective alternative.
Better patient satisfaction
Healthcare professionals are now integrating telehealth services into their treatment plans, alleviating the burden on positions facing shortages. Furthermore, technology enables nurses and other healthcare providers to upskill and fill crucial gaps in patient care. By conducting online consultations, telehealth empowers nurses to educate patients, oversee outpatient care, and provide a convenient and affordable treatment option.
Improved compliance & continuity of care
Telehealth facilitates better planning for follow-up appointments, allowing providers to easily check in with patients remotely. This enables discussions on laboratory test results, for instance, without the need for travel or additional office visits.
Enhanced health outcomes
CVD necessitates increased self-management, and telehealth allows doctors to monitor patients' progress consistently. Whether recovering from surgery at home or managing chronic conditions, primary care physicians and cardiologists can ensure adherence to treatment plans, ultimately leading to faster recovery and improved health outcomes.
Telehealth portals and smart devices have emerged as cost-effective options for remotely managing cardiac risk factors like high blood pressure and conditions such as heart failure and coronary artery disease. Telestroke, a specialized area of telehealth in CVD, enables remote stroke experts to guide first responders, leading to improved rehabilitation and recovery for individuals who do not have access to specialized stroke care.
Overcoming Challenges: Strategies to Maximize the Potential of Telehealth in CVD
Telehealth has emerged as a valuable option for individuals with cardiovascular disease (CVD). However, there are certain challenges that need to be addressed in order to fully utilize its benefits. Here are some identified challenges and strategies to overcome them:
Limited access to technology and devices
One of the main hurdles is the limited availability of technology and devices, especially for older adults and under-resourced populations. To overcome this, efforts should be made to ensure better access to affordable technology and devices, including initiatives that provide resources and training to individuals who may be unfamiliar with digital platforms and consumer wearables.
Health literacy barriers
Cultural and language barriers, as well as low health literacy, can hinder the effective use of telehealth tools and devices. It is essential to provide clear and culturally appropriate information to patients, along with multilingual support. Education and outreach programs can help individuals understand the benefits and functionalities of telehealth, empowering them to utilize these tools to their full capacity.
Insufficient internet bandwidth
Access to high-quality video appointments may be limited by insufficient internet bandwidth, particularly in rural areas where direct access to medical care is lacking. Improving broadband infrastructure is crucial to address this issue. Public-private partnerships and policy changes can play a significant role in expanding affordability and access to internet services, particularly in underserved regions.
Infrastructure, technology, and reimbursement policies need to be aligned to address barriers to telehealth use. Public policy changes should aim to support and supplement the efforts of the private sector in expanding access to telehealth services. An assessment of current policies and identification of potential targets for reform are necessary to create an enabling environment for telehealth adoption.
To summarize, telehealth has the potential to transform cardiovascular care, particularly for individuals in rural and historically excluded communities who face healthcare disparities and are at higher risk for CVD. Overcoming challenges related to technology access, health literacy, and internet bandwidth is crucial. By addressing these challenges, we can leverage the power of telehealth to ensure that patients receive comprehensive care, including monitoring their recovery progress, providing psychological support, and ultimately improving their health outcomes.
Also Read: Shielding Your Little One: Why Every Child Needs Vaccines
Embrace a Healthy Heart with REAN Health Guru
Introducing REAN Health Guru, an innovative mobile health platform designed to revolutionize the way you manage your heart health. Developed by REAN Foundation, this cutting-edge platform provides a companion app and bot that empower you to monitor and maintain your health and wellness from the comfort of your home.
With REAN Health Guru, you can confidently take charge of your heart health journey. Our secure and engaging platform is designed to answer your heart-related questions, clear any doubts, and provide valuable insights to help you understand and manage various health conditions right from your home.
Our comprehensive platform offers a range of features to support your holistic lifestyle and ensure optimal heart health. Easily manage prescriptions, track vital signs, plan your diet and fitness routine, and gain valuable insights into your body's well-being. With REAN Health Guru, you have all the tools you need to proactively care for your heart and embrace a healthy future.
Take control of your heart health today with REAN Health Guru – your trusted companion for a healthy heart and fulfilling life. To know more, get in touch with our team today. 
About The Author