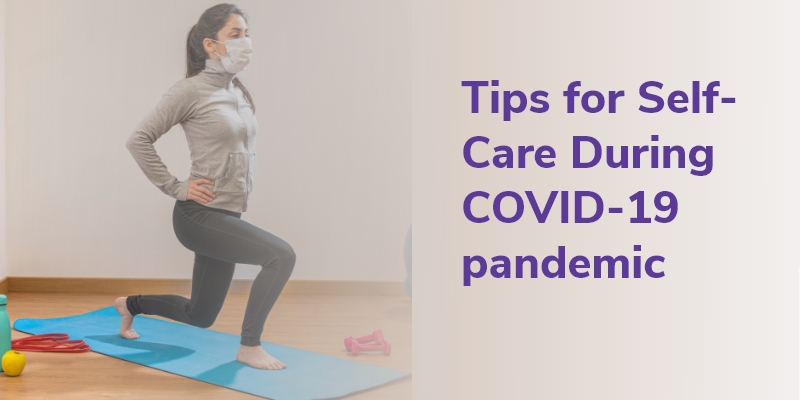 Tips for Better Self-Care to Combat the Pandemic Fatigue
After a year of dealing with the COVID-19 pandemic, you may be feeling as if you're fighting a losing battle against the pandemic. If you're exhausted from focusing on work and family, it's time to turn the attention on yourself.
Despite feeling all too stressed out, it is important to maintain your health and indulge in self-care activities. This will help you and those around you cope with the pandemic-induced fatigue and anxiety. As a result, you'll be more energetic. Additionally, you'll be able to provide an optimistic outlook to those who look up to you during these trying times.
You can use numerous techniques to keep yourself fit and to lower your stress level. Whichever technique you choose to follow, having a dedicated self-care routine is essential for maintaining happiness and health. Let us go over some tips that will help you take care of yourself during Covid-19.
Self-Care During Covid-19 - Top 15 Tips & Measures to Follow
Challenging times; Changing Priorities
You must have thought self-care was selfish, but this is just a myth. The World Health Organization describes self-care activities as any practice you follow to maintain or improve your health. These include routine practices focusing on nutrition, hygiene, leisure, sports, and seeking medical treatment when necessary. The first step towards self-care is making small changes to your routine lifestyle to put your health first. Here are some simple practices to help you maintain your spiritual, emotional, mental, and physical well-being and improve your quality of life.
Be Mindful of Your Feelings
We cannot always bring our best selves to every situation, and it's perfectly fine if you have a bad day now and then. What matters most are the times when your positive energy has an uplifting effect on others. Moments such as these can compensate for the times when something has triggered us or made us feel down. It may be tempting to think, "Oh well, I'm not my best self today, so why bother trying?" but resist this temptation! Even on your worst days, you're worth more than one less-than-perfect moment.
Be Calm and Let it Go!
When the world seems to be spinning around you, and everything seems too much, try focusing on your breathing. It can help calm both the body and the mind while also increasing focus for a more productive day ahead. It's difficult to find balance when outside forces are constantly pulling us from all sides. This is especially observed during times of great stress or tragedy. However, there is power in letting go, even if only temporarily.
Do Not Let the Infodemic Overpower You
When the Covid-19 virus was first reported in the media, everyone seemed to be glued to their television or computer. But, this only helped to add more anxiety and stress. It is good to stay informed, but not so much as to overwhelm you. Limit your exposure by sticking to reputable news sources. Post social media updates to times when you know there will be little coverage (e.g., mornings). Instead of constantly checking your Facebook feed or staying connected through email alerts from mainstream outlets, find a few reliable sites that you can visit regularly.
Create a Routine and Stick to It
Everyone requires a routine in order to achieve their goals and be happy. Create some time for yourself by planning your daily schedule. Make it enjoyable by incorporating family activities such as chores or homework so that no one feels like they are working all day. Allow yourself some downtime as well. Don't forget about the things you enjoy doing alone, without interruption from others!
Network With Dear Ones
Technology has brought people closer together than they could have imagined, but it has also created new opportunities for personal contact. Use digital tools like FaceTime and Skype to communicate with friends who live far away. There is never a time like this to revive old relationships. Call your friends and colleagues, or have an impromptu hangout session with your childhood buddies.
Take Control of What You Can
It's normal to be concerned about the future. Nevertheless, when you are unsure about what the future beholds, why take the trouble to analyze and get concerned? Instead, focus your energy on things you can control, such as decluttering your home and doing creative side projects!
Get Active, Get Going
Physical activity is essential for maintaining a healthy mind and body. So keep yourself active and engaged from the comfort of your homes. If there are seniors at home, encourage them to indulge in some amount of physical activity to help them stay fit. There are several exercises they can do from the safety of their homes, with normal household items. With free videos and apps that keep you active and fit without leaving the comfort of your own home, you can turn your home into a gym.
Achieve Zen in Ten
Practicing mindfulness for 10 minutes can help you feel more relaxed and attain a sense of calmness. There are several ways to do this, such as counting your breaths up to ten and back down (and then repeat). Before starting a mundane chore like doing laundry at home, try mindfully doing the same. Take help from online portals that focus on themes like meditation music or guided meditations. The idea is to set aside distractions in order to fully immerse yourself in one small thing at a time!
Sleep Well for Good Health
One of the most important things you can do for your health is to get enough sleep. People find that they have more success with their sleep routine when they start going to bed and waking up around the same time every day. This will help train your body to follow a schedule, and after a few weeks of doing this consistently, mornings will no longer feel as difficult.
Get Some Fresh Air
It's always nice to get some fresh air! So even if it's just a stroll around the backyard or some time spent relaxing on your front steps, get outside and breathe in some fresh air! However, if you are in a high-risk area or live with someone who is, try opening your windows and let in some fresh air.
Find a Reason To Feel Grateful
Find at least one thing to be happy or grateful about. In the face of adversity and heartbreak, it may appear to be a tall order. But there are many things we take for granted, such as our health, family members who love us unconditionally, and friends who share similar interests. Start by picking something small each day, such as a hilarious video or maybe a trip down the memory lane with elders at home. You may never know; your feel-good moment can stir some positivity into someone else's life too.
Laugh out Loud
We often lack the energy to laugh for ourselves after a long day of work and school. This is why it's important to seek out other opportunities that will help our bodies release endorphins. For example, get together with your family for some fun game nights or catch up with friends who can make you feel better with mindless conversations.
Lend a Helping Hand
Helping others is a great way to help oneself. Even if you are socially isolated, you can help the community in various ways by donating money, goods, or your time. Pick up some groceries for your quarantined neighbor or donate outgrown but not worn-out clothes to one of the charities in town.
Stay Safe, but Connected
Distance is a part of life, whether it's thousands of miles between you and your family or just a few feet. In many ways, technology helps bridge that gap, but nothing beats the face-to-face interaction with loved ones! From daily phone calls to looking up cute video clips on YouTube together, cherish those little moments, and feel grateful.
Read aloud, Learn New Skills
If you find yourself feeling down, watch or read something uplifting, such as a comedy or inspirational story. When there's so much going on in life, sometimes all we need is a brief escape into a different reality! If you have always wanted to learn something new, now is the perfect time to get started. So get ready to paint your thoughts, or try your hands at keys playing your favorite tunes.
Also Read: Exposing The Top 5 Myths About Self-Care
Role of Technology in Self-Care
When you're overwhelmed and stressed about things you can't control, turn to Technology for assistance to manage COVID effectively.
E-Readers
E-readers are convenient devices because of their portability and lack of distraction. Reading on an e-reader is also much more private than reading on your phone's screen because there are no distractions like pop-up notifications to ruin your experience! This is your chance to catch up on all those good reads, immerse yourselves in the world of books and just relax.
Smartwatches
Smartwatches have progressed from novelty items to indispensable tools in a matter of years. Get those little reminders you need, be it drinking water(of course!) or taking a "me-time" break!
Meditation Apps
The advantages of meditation appear to be limitless. It can not only make you feel more confident, but it can also reduce your anxiety and lower your risk of depression. But if you've never tried meditation before, getting started can be intimidating. Meditation apps can help you get rid of such self-doubts or starting trouble. These apps offer guided activities that make developing a consistent practice easier than ever - all from the comfort of your phone.
Health & Wellness Apps
From recipes to music to workout playlists, our phones play a huge role in our daily wellness. There are tons of apps that let you manage your time, calm your emotions, and make you feel more present in each moment. All you need is a stable, high-speed internet connection. You will have access to an array of self-care tools so you can achieve your goals, learn something new, feel better, relax, recharge and rejuvenate yourself.
The Time to Avert The Next Pandemic is - Now!
The coronavirus, which has been wreaking havoc on people's lives and livelihoods worldwide, should serve as a wake-up call for everyone alike. WHO notes that COVID-19 will not be the world's final health emergency.
Needless to say, there is an urgent need for long-term health emergency preparedness around the globe in order to deal with future outbreaks. Unfortunately, as demonstrated in previous crises, people tend to shift their focus elsewhere once an outbreak is under control. With every global health crisis, we have been witnessing this kind of first-panic-then-forget cycle, and it has now become absolutely essential for us to break this vicious cycle.
Self-care is defined by the World Health Organization (WHO) as an individual's or family's ability to promote health, prevent disease, and maintain health with the assistance of healthcare providers such as doctors when necessary.
In simple terms, self-care often stems from our everyday routines, usually learned as we grew up. Washing hands after using the restroom, eating fruits daily for healthy snacks, brushing your teeth twice a day, and regular exercising are just a few examples.
The global pandemic has demonstrated a valuable truth. Self-care is an important part of preventing infections and chronic diseases and a necessary step in recovering from an acute illness or trauma. In addition, continue to follow all the best health and hygiene practices that this pandemic has taught us.
Keep yourself updated, but make sure to follow only trusted sources like WHO or your national health advisory.
Keep your surroundings clean and hygienic; remember to scrub and disinfect the surfaces that come in frequent contacts, such as door handles, mobile phones, health faucets, etc.
Always stick to best hygiene practices.
It's Indeed A New Normal
It might be terrifying to even imagine that we might have to live like this forever. But, like the seasons that pass each year, this too shall pass. But remind yourself that this pandemic has also allowed you to introspect and take time for yourself. REAN Foundation empowers you with a robust platform that allows you to take control of your health and well-being. For more insights, visit https://www.reanfoundation.org/.
About The Author