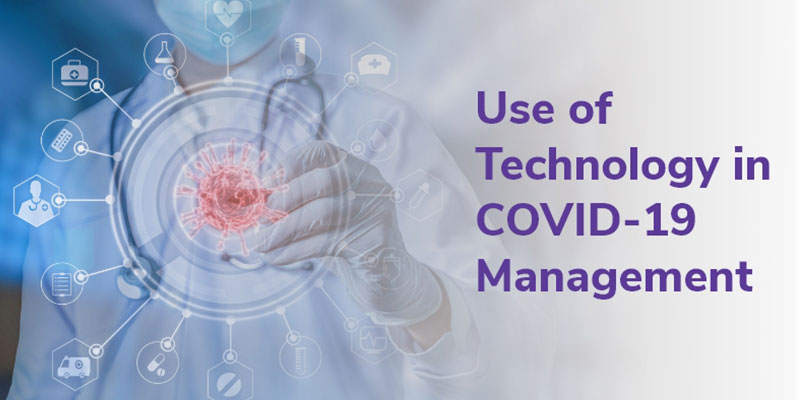 Use of technology in COVID-19 management

In Mar 2020, WHO declared the Covid-19 infection outbreak as a global pandemic. Since then, there have been several first and second-order effects that deeply impacted patients, physicians, healthcare workers, hospital systems, and governments. Some common issues across the spectrum have been the lack of preparedness of healthcare systems and sudden disruptions and continued restrictions of established patient care pathways.
Traditional healthcare models did not help patients and healthcare providers during the pandemic
How did the pandemic impact patients? First and foremost, the restrictions on travel and movement brought in by the pandemic severely affected patients' ability to meet their doctors/healthcare providers in person. In several countries, including India, where virtual healthcare delivery is negligibly present, this meant that patients had to face severe difficulties and delays in having their Coronavirus symptoms diagnosed Further, patients were faced with other challenges, including limited access to suitable treatment, and minimum guidance on the management of their disease.
The focus of every healthcare stakeholder was towards managing the Covid-19 emergencies. This complicated the situation, as there was limited or no healthcare access for non-covid cases. Thus, even patients suffering from diseases that require constant monitoring, such as Cancers and other NCDs (diabetes, cardiovascular disorders, etc.) were left with no one to attend to them. For example, two million people in England with diabetes missed out on recommended vital health checks last year during the COVID-19 pandemic according to Diabetes UK.
None of these issues could be addressed efficiently, thanks to the ever-changing nature of the pandemic. This led governments to give confusing, and sometimes conflicting messages around public health challenges and precautions. This confusion was further percolated in several information outlets including social media channels. A survey found that around 30% of Indians used WhatsApp for COVID-19 information, while 13% of respondents said they never fact-checked messages before forwarding them on the messaging app.
The pandemic emergency also created several challenges for healthcare providers. The foremost challenge was constrained resources across the healthcare systems. A parallel issue contributing to this challenge was the lack of systems to support patients remotely. Most healthcare systems across the world are quite fragmented leading to the inability to provide support across the diagnosis-treatment-management continuum.
Healthcare Technology interventions were of immense help during the pandemic
Technology interventions were picking up speed even before the pandemic, however, the restrictions and challenges posed by the pandemic have helped these innovations get their due place in the mainstream. For the pandemic itself, several health-tech interventions have shown great promise in addressing some of the challenges outlined above. These included:
Contact tracing: Tech-enabled contact tracing apps and other such innovative solutions made it easy to trace and track during the pandemic. An important activity that helped governments globally in contact-tracing especially in metropolitan areas and large cities.
Patient education and information dissemination: Several non-profit organizations, government agencies, and healthcare provider systems used social media, direct messaging, and other channels to share regular updates, country-regional-local level guidelines, and other such information directly with patients and their caregivers.
Telehealth/virtual consultations: One of the most sought-after interventions during the pandemic has been about providing the ability for patients to connect with physicians virtually. Telehealth has been slow in gaining patients' trust and confidence in pre-pandemic times but the pandemic restrictions helped it gain a foothold.
Virtual services (meds, labs, equipment): Several other allied services including laboratory testing, prescription medications, imaging, etc. went virtual too, albeit to a lesser extent than virtual consultations.
Many experts strongly believe that this reliance on technology for several healthcare needs by patients, their caregivers, and healthcare providers will continue to increase in post-pandemic times.
Also Read: Managing Health at Home Becomes Easy with REAN HealthGuru Mobile App
Patients and caregivers can benefit further from more patient-centric technology innovations
Although there was an increase in healthcare technology adoption during the pandemic, there are still several needs for patient-centered care that remain to be addressed. One of the most important ones that many patients, caregivers, and healthcare providers usually struggle with is that the current healthcare system is focused on 'treating patients' once they already have a disorder/disease. There is very little emphasis on preventive healthcare and patients/caregivers do not have easy access to preventive management tools and advice. This became especially apparent during the pandemic as patients and caregivers were not able to reach out to their physicians for insights on preventive measures, identifying the symptoms, and taking steps.Another issue that parallels the above issue is the lack of awareness of self-care options during the pandemic. Creating proper awareness will help them in post-viral recovery as well.  Patients currently overtly rely on physicians, clinics, and hospitals. However, they are not empowered to lead their own diagnosis-treatment-management journeys. This means that patients and caregivers are not able to manage several steps of their treatment/management journeys. This problem is further compounded due to the lack of tools to support caregiver participation/supervision virtually. All of these additions are currently considered as non-essential aspects of care management but several patients and caregivers would benefit by making them available more widely.
Key Features
REAN Foundation has been at the forefront empowering patients and caregivers with tools and methods to independently manage their health challenges, from the comfort of their homes. Our mission is to improve the quality of life and ensure easy access to healthcare for all regardless of their age. Our healthcare platform, the REAN HealthGuru is an intuitive and easy-to-use medium designed thoughtfully to benefit patients: Some of the key features of our platform include:
Enabling Self-care: REAN HealthGuru allows you to track your vitals, manage your diet and nutrition requirements, and encourages you to create and track fitness goals for overall health and well-being.
Empowering with Information: Quick access to key healthcare information from authentic sources.
Facilitating Support: Allows you to form a support community for quick action and response in times of emergency.
Medium: An interactive, highly secure, and easy-to-use platform that is easily accessible by all age groups.
Click here to learn more about the REAN HealthGuru.
About The Author