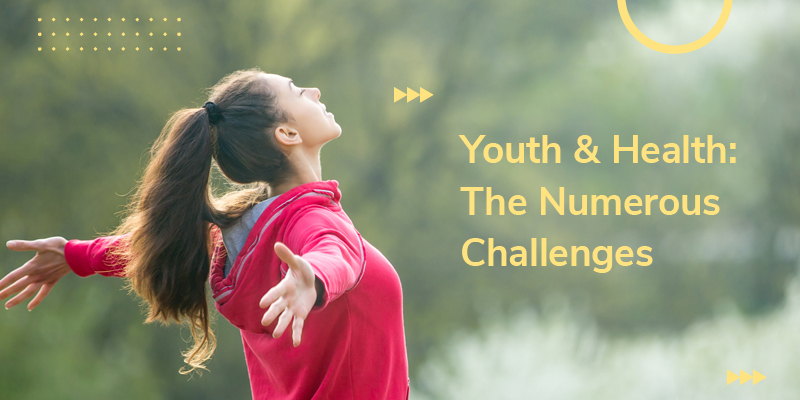 Youth & Health: The Numerous Challenges
December 13, 2021 6:12 am

How Healthy are Today's Youth?
Youth is a critical phase of life. It is characterized by major physical, physiological, psychological, behavioral aspects, social interactions, and relationships. Habits acquired during youth set the stage for healthy and productive adulthood.
Most school-going children are presumed to be healthy. However, as per the World Health Organization (WHO), an estimated 2.6 million young people aged 10 to 24 years die each year. More youngsters suffer from illnesses that hinder their ability to grow and develop to their full potential.
Fortunately, today's youth have access to healthcare platforms like REAN that allow them to control their well-being and mitigate the need for medical help.
However, it is important to note that nearly two-thirds of premature deaths and one-third of the total disease burden in adults are associated with behavioral conditions like::
Tobacco use
Physical inactivity
High-risk sexual behaviors
Injury and violence
Healthy Habits: A Rewarding Boon for Youngsters
Motivating children and youngsters to develop lifestyle habits helps them support their good health for years to come. Our emphasis is to work with parents, children, and educational institutions to promote health & wellness resources beyond disease & injury prevention. It is important to form a daily routine that focuses on three aspects:
Eating nutritious foods
Doing regular physical activity
Getting adequate sleep
These healthy habits contribute to:
Accelerated growth and development
Active mind with a positive attitude
Physically fit body with optimum weight
Prevention of iron deficiency in the body
Healthy eyesight due to less strain to the eyes
Fewer chances of developing chronic diseases
Also Read: Mobile Health Technology: A Boon For Doctors & Patients
Key Healthcare Challenges for Young Adults & Children
Poor personal hygiene and inadequate sanitation practices among young children lead to infectious diseases. Some of the common health challenges faced by school-going children are:
Anemia
Poor eyesight
Fungal infections like Angular Cheilitis
Gingivitis and dental cavities
Digital addiction
Mental stress and anxiety
Non-existent health and behavioral habits
According to the Centre for Disease Control and Prevention (CDC), 52% of children within 6-8 years have dental cavities in their primary teeth. 57% of youngsters aged 12-19 have cavities in their permanent teeth. Untreated dental cavities may cause an infection that may lead to speaking, eating, playing, and learning problems. Dental cavities may also cause severe gum infections that spread to other body parts. This infection can end in fatal results in rare cases.
Moreover, parents and educational institutions face some roadblocks in providing health and wellness support.
Parents face hurdles such as:
Lack of knowledge about children-related health issues associated with eating habits.
Lack of time and money to visit doctors and therapists.
Lack of awareness about immunization and medication.
Educational institutions also have some shortcomings when it comes to child healthcare:
Shortage of medical resources
Lack of expertise to develop a unique healthcare app for parents and children.
REAN Foundation: Providing a Silver Lining
Fortunately, technology can play an important role in enhancing hygiene knowledge and practices among school children and mothers. REAN Foundation works as your digital health partner. We create tech solutions that empower users to take care of their health from the comfort of their homes. Our team is committed to creating solutions that help individuals take ownership and make smarter healthcare choices.
About The Author