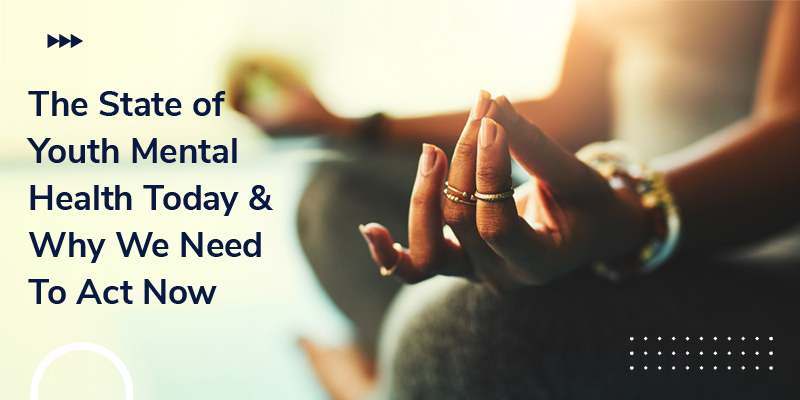 The State of Youth Mental Health Today & Why We Need To Act Now
September 15, 2022 7:03 am

Are Our Youth Mentally Healthy?
It has taken millions of years for humans to evolve into what we are now. However, we may need thousands of years more to understand the human mind. We especially have a long way to go in terms of mental health for youth.
What research reveals about the mental health of our youth is disturbing and shocking. There is evidence of youth developing mental disorders when they are as young as fourteen. What's more alarming is that these mental illnesses evolve as the youngsters grow older. Research also points to the fact that youngsters within the age of 25 suffer from major mental disorders that make up 45% of the diseases globally.
What Does the Statistics Reveal?
Adolescents who ought to enjoy their lives and think about shaping their future are wrought with all kinds of mental illnesses like depression, anxiety and behavioural disorders. The World Health Organization warns that mental disorders are the single-most common cause of disability among the youth.
Some of the statistics given below unravel the scary reality of youth mental health all over the world. Statistics state that:
Mental disorders affect one in seven 10-19-year-olds worldwide, representing 13% of all diseases among this age group.
Anxiety disorders are reported to affect 3.6% of 10-14-year-olds and 4.6% of 15-19-year-olds.
Suicide is the fourth-leading cause of death amongst 15-19 year old teens. An analysis done in 2019 revealed that at least 1 in 6 youth had made plans to commit suicide the year before. This number pointed to a 44% increase since 2009.
3.6% of 10-14 year olds and 2.4% of 15-19 year olds show increased symptoms of challenging or destructive behaviour.
1.1% of adolescents aged 10-14 years, and 2.8% of 15-19-year-olds suffer from depression.
3.1% of 10-14 year-olds and 2.4% of 15-19 year-olds suffer from ADHD or Attention Deficit Hyperactivity Disorder.
Furthermore, tobacco and cannabis use among adolescents aged 15-19 years and heavy episodic drinking are a concern worldwide.
It is now known that at least 70% of the mental disorders occur before the age of 25, which is why it is critical to address mental health and increase its awareness in the adolescent years.
Youth Mental Health: Addressing the Elephant in the Room
Sadly, there is a huge stigma attached to mental health, especially when it involves young children. Most parents are in denial of such issues and sometimes choose to sweep them under the rug, without understanding the consequences.
Failing to address mental health issues in adolescence can extend the problems to adulthood and drastically affect all other aspects of physical health, emotional and social well-being. Lack of timely support can leave youth feeling socially stigmatized, lonely, and incapable of making any interpersonal contributions to society.
Identifying and confronting mental health issues in youth opens the doorways for:
Increased emotional stability
Decreased behavioral episodes
Lesser functional impairment
Better compliance with rules and regulations
Improvement in social and behavioral adjustment
Better learning outcomes and school performance
Now, here's the million-dollar question: Are we well-equipped to treat mental illnesses in youth? Unfortunately, we are not. There are yawning gaps in terms of what we know about the causative factors of mental illness and the safest treatment methodologies. We are still held back by rudimentary mental healthcare models and plagued by our society's negligence.
It is for these very reasons that addressing youth mental health issues remains one of the biggest obstacles impeding the betterment of our society. To find a solution to this long-pending issue, we can:
Create all youth-related mental health programs and policies based on validated scientific research.
Increase monetary investment to identify early-onset mental disorders .
Create early intervention programs to deliver appropriate care to young people.
Integrate mental health-related programs into education, community, justice, and health services.
Also Read: Community Health Screening: Health Care for the Masses
Mental Health Evaluation & Research: Why is it Important?
Understanding the human mind is like diving into a bottomless chasm. The burden of mental illness cannot be reduced unless we have fully researched and validated solutions. Thorough research and evaluation are absolutely necessary to:
Understand the reasons behind mental health issues
Evaluate to risk factors associated with the issues
Implement preventive initiatives
Enable new forms of mental health support
Identify mental health trends in various ethnic and racial populations
Mental health research identifies two biopsychosocial factors:
The trends in social determinants in population health.
Interaction between biological, sociological, and psychological functioning.
This data provides valuable insight into the current state of mental health among youth worldwide. But that's not all. Research and the collected data are parameters that help us assess if we are on the right track with our mental health services and resources. How else will we know if these solutions are adequate for the mental health requirements of our youth?
In order to close the gaps between mental health care and community needs, public health professionals must have this data in order to identify pain points and prioritize policies and strategies. Another purpose of this evidence is to demonstrate the value and success of programs and policies, which will justify the expenditures of local, state, and federal governments. Research findings provide guidance on the best ways to improve mental health among youth in different contexts. It also ensures financial investments are directed towards proven programs to improve mental health and reduce mental illness in youth.
Building a Futuristic System for Youth Mental Welfare: What are the Possibilities?
Promoting and preventing mental illness is not the sole responsibility of mental health professionals. Youth require support from parents, family, friends, community, and society. We, as a society, require integrated multidisciplinary services to improve the range of possible interventions and reduce the risk of poor outcomes.
To create such a framework, we need to bring in the combined power of the following factors like:
1. Creating better community awareness
Better mental health starts from home. Therefore, the first step to eliminating the stigma of mental health issues, improve community awareness, and educate the society about:
The nature and pattern of mental health issues
Identifying mental health problems affecting the youth
Helping youth with mental issues
2. Implementation of prevention programs
Schools and colleges should have strict anti-bullying and anti-ragging measures in place, because these incidents have a massive impact on the mental state of school children and college-going youth. Educational institutions and societal communities should also set up round-the-clock counseling and chat sessions to thwart suicidal attempts and build mental resilience in youth.
3. Working with volunteers
By providing appropriate training, volunteers and peer workers can provide compassionate support and offer simple therapeutic interventions, especially for first-time users of mental healthcare services.
4. Using digital healthcare platforms
Despite challenges in implementing and integrating new digital technologies, their integration within clinical services could boost engagement. Digital mental health interventions are available for young people with anxiety and depression. These include:
Online programs
Video/online games
Text-messages
Mobile apps
Online chat groups
REAN Foundation's tech solutions are ideal for youth to take control of their mental health and live life to the fullest. REAN's HealthGuru is a digital platform that allows users to monitor mental health, stay on track, and get timely medical advise from mental health experts. Click here to understand how our app can help youth improve their mental healthcare.
5. Utilising educational settings and workplaces
Schools and colleges are the apt environment for staff to create awareness about mental health. School settings provide the opportunity to educate teenagers on identifying and responding to mental health issues.
In this fast-paced, dog-eat-dog world, mental health often takes a backseat. It is high time we put youth mental wellness under the spotlight and make it a top priority in healthcare. Youth mental health research can help to address the root cause of these conditions and lay the groundwork for more comprehensive, concrete solutions.
About The Author