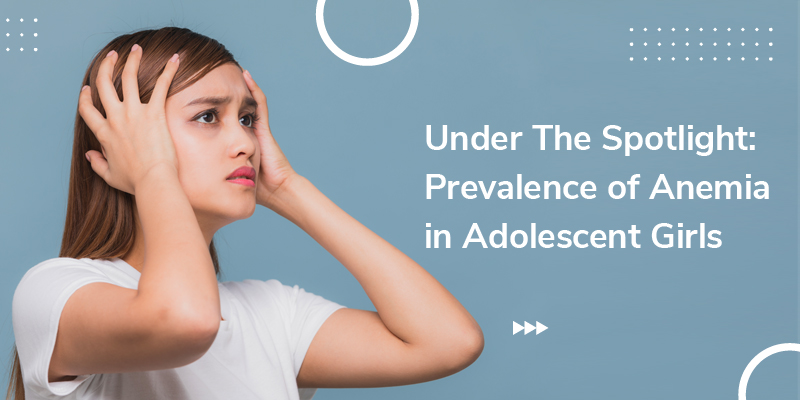 Under The Spotlight: Prevalence of Anemia in Adolescent Girls
September 20, 2022 3:49 am

Anemia is a health condition that can occur in men, women, and young children, irrespective of age. On a global scale, it is considered to be the most common nutritional disorder.
It is, however, shocking to know that in a fast-developing nation like India, Anemia is highly prevalent amongst young teen girls between the ages of 12 and 13. Statistics state that the prevalence of Anemia among adolescent girls in India is an alarming 56%, translating to almost 64 million girls at any point in time.
This health crisis is a serious issue because Anemia has adverse consequences if not treated in time. Why are anemic adolescent girls at risk? Why are they facing this health problem? Read on to understand the prevalence of Anemia in adolescent girls.
What is Anemia & Why Does it Occur?
Generally, Anemia is a condition brought on by the deficiency of iron in the body. This deficiency lowers the Red Blood Cell count, resulting in a deficient oxygen supply to the body. Anemia can be caused by genetics or chronic health conditions, but 50% of anemia cases are caused by iron deficiency. Lack of sufficient iron in the diet leads to a decrease in hemoglobin levels, resulting in thinner, de-oxygenated blood.
Why Does Anemia Affect Adolescent Girls?
Adolescent girls as young as 12 and 13 are on the brink of menarche or their first period. Unfortunately, in India, many young girls of this age group face socio-economic problems, poor nutrition due to poor food intake, poor hand hygiene, erratic eating habits, and worm infestation. These factors put them at a higher risk of Iron Deficiency Anemia or IDA.
What Causes Anemia?
There are many types of Anemia with various causative factors like cancer, diabetes, genetic disorders, Vitamin B12 deficiency, chronic or heavy bleeding, etc. However, the most common culprit behind Anemia is nutritional neglect, which is also the prime reason for Anemia in adolescent girls. Health experts blame diet-based factors like:
Poor dietary intake leads to iron deficiency in the body
Dietary deficiency of important vitamins like Folic acid, B12, and Vitamin C
Prolonged intake of a Phytate-rich cereal-based diet
Poor consumption of iron-based enhancers like Vitamin C
Adolescent girls who already face these risk factors may face additional hazards like:
Heavy blood loss during menstruation
Early marriage in teen years
Adolescent pregnancy
A study conducted amongst adolescent girls reveals a significant association between Body Mass Index (BMI) and Anemia. As per the findings, adolescents with a low BMI were 3.2 times more likely to be anemic. However, low BMI is not the only culprit. Several other studies have reported that a higher BMI is also associated with a higher prevalence of Anemia.
What Are the Signs & Symptoms of Anemia?
Generally, Anemia is a silent disease, and the person will seldom show any signs until the disease progresses. A person with moderate Anemia will experience symptoms like:
Conjunctivitis of the eye
Yellow coloration of the nails, tongue, and palm
Breathlessness
Fatigue
Loss of appetite
Edema of the feet
In severe cases, the disease manifests as:
Pallor or whiteness of the skin, nails, palms, tongue, and eyelids
Shortness of breath
Frequent headaches
Leg cramps
Poor immunity against infections
Inability to concentrate
Soreness of the mouth
Cracks in the corners of the lips
General fatigue accompanied by dizziness
Statistics state that the prevalence of Anemia among adolescents in developing countries is 27%- a glaring contrast to the 6% in developed nations. How does India fare in terms of Anemia in adolescents?
Also Read: The State of Youth Mental Health Today & Why We Need To Act Now
Prevalence of Anemia Amongst Adolescents in India: The Ground Reality
Various studies have been conducted across different states in India to ascertain the prevalence of Anemia in adolescent girls. Unfortunately, the results are not good.
In a Data Analytics Report based on hemoglobin samples received between January 2015 and November 2021, 46 percent of girls below 15 years of age were found to be anemic. Approximately 13% of the samples showed severe Anemia amongst those tested.
Another population-based study conducted among 14,300 Indian adolescents reveals that 28.4% of them were anemic, with the primary causes being:
Vitamin B12 deficiency (25.6%)
Iron deficiency (21.3%)
Dimorphic Anemia (18.2%)
Inflammation (3.4%)
Several socio-economic factors also contribute to this health crisis. Many adolescents are affected by:
Poor health and hygiene practices
Deplorable housing conditions
Low economic status
Lack of educational awareness
Socio-economic Factors That Contribute to Anemia in Adolescent Girls
While Anemia is common among adolescents, young teen girls from rural areas are particularly affected by compounding factors that make them more susceptible to this disease.
Lack of awareness, high poverty and illiteracy rates, and poor access to healthcare services is also why Anemia is more prevalent among rural adolescent girls than in their urban counterparts. Studies conducted in rural areas reveal other underlying reasons like:
Poor hand hygiene
Improper footwear usage
Worm infestation
These studies signify a dire need for rural girls to be educated about personal hygiene, deworming, and proper footwear use.
Another niggling factor is the practice of early marriage in rural areas. Anemia risk is greater when these young girls become pregnant in mid or late adolescence. Anemic pregnant girls are likely to face issues such as:
Fetal morbidity
Premature birth
Stunted growth
Increased perinatal risks
Low birth weight of the infant
Increased infant and maternal Mortality rate
Anemia during pregnancy will worsen in adolescents as they compete with the growing fetus for nutrition.
Addressing Adolescent Anemia: Now Is The Time To Intervene
Adolescence is a vulnerable age where the body undergoes many changes signifying the transition from childhood to adulthood. Hence, it is the right window of opportunity to correct any nutritional pitfalls in young teens. Conditions like Anemia can have disastrous physical, mental, and social consequences. Left untreated, Anemia can cause:
Delayed menarche
Poor memory retention
Increased exposure to infections due to a poor immune system
Poor concentration in daily tasks
Lack of physical fitness
Poor work productivity
Limited learning abilities
Increase in school drop-out rates
Prolonged prevalence of Anemia and lack of timely medical care can be the underlying cause for:
Chronic illnesses
Poor fetal development
Delayed cognitive development
Poor physical capacities
Increased exposure to infections
Measures to Prevent & Control Anemia in Adolescent Girls
The high prevalence of Anemia in adolescent girls is nothing short of a major social health crisis. Experts worldwide are calling for measures to reduce the burden of Anemia in young teen girls.
What young girls need to ward off Anemia are:
An iron-rich diet is balanced with vitamins, minerals, and macro and micronutrients that aid iron absorption and the production of red blood cells.
Extra iron supplements, along with folic acid tablets once a week. In fact, studies state that the average intake of folic acid and micronutrients amongst adolescents is lower than that of adult women.
Personal hygiene, environmental cleanliness, and bi-annual administration of deworming medication to prevent hookworm infestation. Counseling and educational awareness is also a must to help young girls improve their personal hygiene.
Early identification and referral of suspected cases to the nearest health center facilitates preventive action and timely medical intervention.
Prevent vector-borne diseases like malaria, a major cause of Anemia. Awareness of insecticides, mosquito nets, etc., can prevent young girls from contracting such illnesses.
Mitigating Anemia in India is a mega challenge that requires a multi-level approach. Managing this health crisis, particularly in the rural areas, is only possible with:
Behavioral changes
Better awareness
Better communication
Better health policies
Change in societal norms related to health
Access to healthcare through digital platforms like REAN HealthGuru App
REAN Foundation's digital platform is an innovative solution that allows people to manage health effectively wherever they are. Our app allows users to monitor their health, track vitals, and get reliable inputs from health experts. Click here to learn how REAN Foundation's digital solutions help manage healthcare crises like Anemia and other diseases.
About The Author