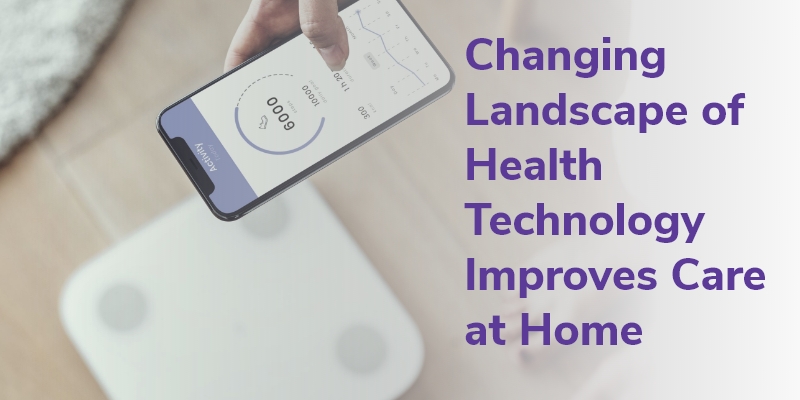 Experts Discuss How Changing Landscape of Health Technology Is Improving Patient Care at Home
September 13, 2021 4:12 am
In the era of healthcare digitization, the number of individuals seeking medical assistance at home has increased substantially. Home healthcare has come into focus as an essential service not just for older people but also for people dealing with different conditions like those having a disability or those recovering from a medical complication, or suffering from chronic diseases.
REAN Foundation hosted a webinar recently where the organization's co-founder and CEO, Sri Vasireddy along with medical consultants - Dr H S Madan and Dr Rakesh Garg shared their views on the changing landscape of health technology and how it is allowing access to preventative and chronic care management in the comfort of your home.
Here is a brief synopsis of the discussion:
"What are your views on the emerging technology innovations in healthcare, as a physician as well as a thought leader?"
"Technology has made it convenient for patients and their family members to clear any doubts regarding an ailment, tele-medicine has made it very easy for individuals to reach doctors, have e-consultation with specialists and understand the disease progression path, how it can be controlled at an early stage. Remote health apps are now allowing the best medical expertise to reach remote areas," said Dr. Rakesh Garg, Executive Medical Officer, REAN Foundation.
"What is the vision of an organization like the REAN Foundation?"
"REAN Foundation's vision is to help the society in accessing holistic healthcare using technology. Holistic healthcare will allow people to not only manage the disease at home but also prevent them with early detection by having awareness about common diseases and their symptoms," said Sri Vasireddy.
While creating technology driven healthcare we always focus on augmenting the traditional way of healthcare with easy to use applications so that elderly population does not face any issue.
To fulfill these goals, the REAN Foundation team has developed different applications & tools to handle different aspects of disease prevention and management.
Also Read This: Adoption of Digital Health in India
"Please share an overview of your project around generic medicines and how that will benefit society."
Dr. Rakesh shared, "Many studies have highlighted that a high number of patients do not adhere to their medications because of cost. The burden of such prescriptions has to be borne by the patient and his family. Many patients leave the medicine course midway as they are unable to afford the cost of the medicine leading to complications arising due to untreated health conditions. The biggest reason behind this is the lack of awareness about generic medicines and lack of information about their availability.
"I have been working to develop a website called 'Genericpedia' that will help patients to learn more about the generic medicines that could replace the prescribed branded medicines. They will also be able to check the prices and nearby pharmacies with available stock," he said.
What are your views on self-care and home-based care delivery?
Sri Vasireddy shared, "Based on the insights shared by experts, home-based care can be categorized under six key pillars where three pillars are related to preventative health and three pillars are related to healthcare management."
Disease Prevention Pillars
Nutrition Management
Exercise and Activity Management
Stress Management
Disease Management Pillars
Symptoms Management
Medication Management
Vitals Tracking
REAN HealthGuru app and bot support individuals in following a healthy lifestyle as well as make management and monitoring a part of daily activities for those who have a chronic condition. Click here to learn more about the REAN HealthGuru mobile application.
How has the role of caregivers changed due to tech advances and pandemic? 
"COVID-19 pandemic has revolutionized healthcare delivery using technology. Not only healthcare regulatory agencies around the globe have accepted the different modes of remote healthcare delivery using different technologies but acceptance among the general public has increased a lot. Now patients prefer to consult doctors online using tele-medicine instead of physically visiting the clinic or hospital," said Dr. Rakesh.
Tele-medicine not only benefits people in remote, rural areas but also benefits people living in metros, allowing them to save travel time and cost. It also lowers the chances of hospital acquired infection by reducing the need for hospital/clinic visits while allowing patients to easily reach specialists for a video consultation. REAN HealthGuru bot provides an innovative solution to help users deal with health challenges, the intelligent bot helps clarify doubts and provides expert advice to prepare individuals for day-to-day health management and plan ahead to deal with any medical emergencies. Click here to learn different uses and benefits of REAN healthGuru bot.
What are your thoughts on NDHM? Can you give us a glimpse of what's happening with the National Digital Health Mission?
"National Digital Health Mission (NDHM) will work towards integration of the Indian population data that will give us a significant data volume advantage, which could then be used to generate insights into disease behaviour and lifestyle patterns. It will be a huge benefit for researchers, helping them to develop new models of personalized care suitable for Indian conditions," said Dr. Madan, Consultant Orthopaedician &Traumatologist.
The move towards standards-based digital systems via the NDHM is the only way to achieve this goal and will be a milestone step in transformation of the Indian Health Ecosystem. "Digitalization of health records in a universally acceptable format will give freedom to the patients from standing in patient queues carrying heavy records files and also from expenses incurred in repeat tests due to loss of old records. Digital records will help the healthcare providers to ensure best quality treatment reaches a wider patient base. The technology will allow patients in remote locations to receive specialist opinions through teleconsultation, thereby saving time and money," the doctor added.
"How do you think the REAN Foundation can contribute?"
"REAN Foundation health platform is built with a vision to provide Preventative Behaviour Continuity Care using open-source technology. It not only helps track health parameters to ensure disease prevention but it also empowers individuals to manage their condition after receiving initial treatment or post hospital discharge. The mobile platform is following the highest global standard to ensure safety of patient health records and personal data," elaborated Sri Vasireddy.
As discussed earlier, REAN Foundation provides an easy-to-use platform that can be used by individuals and families to easily manage and control a chronic condition. It uses mobile technology to help patients understand their disease better, record their daily vitals data and adhere to prescribed medication more efficiently. Using the REAN Foundation forum, patients can have access to expert insights to help resolve different queries sitting at home. Also REANHealthGuru app has the option to store different medical prescriptions and investigation reports at a single place which can be easily shared among family members as well as with the healthcare providers whenever required.
Watch the complete video series here and contact us if you have any questions or would like to partner with us in REAN Foundation initiatives.
Download the REAN Health Guru App today, or visit us at https://www.reanfoundation.org/ to know more on our unique healthcare platforms.
About The Author