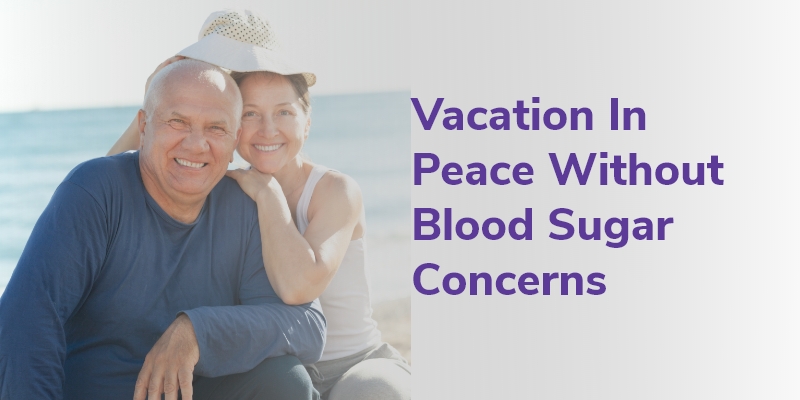 Is Your Blood Sugar Management Hampering Your Vacation Plans?
September 20, 2021 3:48 am

Have you got that niggling concern about your blood sugar before you leave on a vacation? Worried that it may play spoilsport for your big plans? Fret not! All you have to do is devise a self-care plan to ensure your health while you have a whale of a time!
If you have a chronic condition like diabetes, you are probably worried about three things as you pack your bags for a holiday:
How to count carbs with hotel food?
How to check your insulin levels while traveling?
How to manage new climatic conditions?
Worry not! This blog serves as a comprehensive solution to help ease your worries about blood sugar management. We help you with reliable details to plan and pack for a vacation and stay armed to deal with diabetes on the go!
First things first. Let's deal with the challenges diabetic people are likely to face while vacationing.
Holiday Challenges To Expect If You Are Diabetic
There is hardly any hospitality business in the world that offers "diabetic-friendly" holidays or tours. The fun-filled parties and holiday festivities are centered around calorie-rich foods and desserts that send your blood sugar on a roller coaster ride! And thanks to crazy holiday schedules, your daily routines are likely to go for a toss! You will probably not have time to sleep, exercise or even have your meals on time.
Here are some of the common hurdles you may face during your vacation if you have diabetes:
Maintaining consistent blood sugar levels with different activities, food intake, and varying weather conditions.
Medication management- losing the pills or getting them mixed up during transit.
Forgetting to take the medication at the right time and the correct dosage.
Our REAN HealthGuru App serves as a guiding light to deal with such challenges. The app helps you adhere to your medication schedule and manage your chronic healthcare problems.
Let's take a look at the simple strategies to make your vacation fun-filled and diabetic-friendly.
6 Ways To Enjoy Your Vacation & Keep Your Diabetes Under Control
Your holiday mood begins right from the day you pack and lasts until you return and unpack your luggage. You need to prioritize your blood sugar management from the first stage to the last and everywhere in between. Here's how you should do it:
1. Discuss with your doctor
Make a trip to your hospital before taking a vacation to ensure you are in the pink of health. It's always safe to discuss your travel plans with your doctor and take their advice on blood sugar management. Amongst the many things you'll want to discuss, do not forget to ask about:
The vaccines you need to take if you are traveling to any particular country.
Emergency prescriptions if you are traveling abroad.
Tips for adjusting insulin doses, especially if traveling between various time zones.
A doctor's note if you are carrying medical supplies through airport security.
2. Pack with a purpose
You cannot let your diabetic concerns dampen your holiday spirits. Therefore, you need to take extra care while packing.
Make sure your medication is the first thing that goes into your bag.
Ensure you have twice as many supplies along with the prescriptions.
Stash half the medication in your carry-on bag to have your timely dosage.
Carry a glucometer, test strips, and other necessary supplies along with your medication.
Follow the packaging instructions to transport insulin safely.
Ensure that your testing equipment and medicines are not exposed to heat during transit.
3. Calculate your carb intake
Insulin management is easy at home because you are sticking to a diet routine. Your body becomes acclimatized to timely meals with a specific carbohydrate intake. However, this dedicated diet routine is likely to go for a toss when you are traveling.
Your mealtime will change with different time zones, and so will your carb intake as you try out different cuisines. And the result of all this? Fluctuating blood sugar levels that will impact your energy and leave you tired.
Where's the fun in a vacation if you cannot try out new foods? Cheer up and check out these tips to try out exotic cuisines without straying from your routine carb intake.
Make a thorough research before you embark on your journey. List down the most commonly available dishes and work out the carb intake for each dish. You may also seek the advice of a nutritionist or dietician for professional guidance.
Use carb counting apps. Download a reliable app on your phone and check your carb count on the go.
Bank on renowned fast-food chain outlets to get the full nutritional information about their food items. Check out their websites for details.
Use our healthcare app REAN HealthGuru, to input your food intake and get an estimate of the carbs and nutrition per portion of food.
4. Hydrate while you holiday
The constant traveling, adventure, fun, food, and recreation should make you forget your worries, not your water intake. Diabetes and dehydration do not bond well. When you do not hydrate your body, your blood sugar levels increase, leading to frequent urination. This not only leads to more dehydration but also leads to hyperglycemia or high blood sugar. Besides, your diabetic and hypertension medication acts as diuretics, which only increases the risk of dehydration if you are careless with your water intake.
There are 4 easy ways to deal with this problem:
Make water your constant companion. Carry bottled water wherever you go.
Ensure access to clean drinking water while traveling around.
Prioritize and get your water requirements sorted with your travel agent beforehand.
Avoid alcohol and beverages. They are not a replacement for water, and they only cause more water loss.
5. Exercise diligently every day
Exercising during a holiday? Why not? With your packed holiday schedule, it may seem like an impossible task. However, you can squeeze in at least half an hour of exercise if you really prioritize your diabetes management. Exercise may also be a part of your overall treatment, especially if you have type 2 diabetes. Therefore, you cannot afford to skip your regime.
The REAN HeathGuru app is an ideal travel companion that motivates you to stay active. The healthcare app helps you set realistic health goals, sends timely reminders, offers valuable tips and engaging videos on leading a healthy lifestyle.
Also Read: How Technology Empowers People By Allowing Affordable, Accessible Healthcare
6. Follow the 4 golden rules
Whether it's a one-day trip to the nearby tourist spot or 6-month trip worldwide, we want you to have these 4 golden rules in mind. Follow them and manage your blood sugar levels without any worries:
Adopt a mindful eating, diabetic-friendly approach and never skip any meals.
Ask for recipe modifications if your hotel is open to diabetic-friendly cuisine.
Take ample rest whenever you get the time.
Be mindful of any changes in your body and have it checked out if it is a cause for concern.
Don't Let Diabetes Stop You From Taking A Vacation!
Let's not forget that you are on vacation, and it's time to unwind from your worldly worries and have fun. While it is important to prioritize your blood sugar management, you should not forget the real purpose of your holiday. Do not hold back from having an adventure, checking out new cuisines, and learning about new cultures.
Download our HealthGuru app and make optimum use of its benefits wherever you are. With our app to guide you and a little bit of proper planning, you can have the best time in the world and worry less about your blood sugar levels.
About The Author