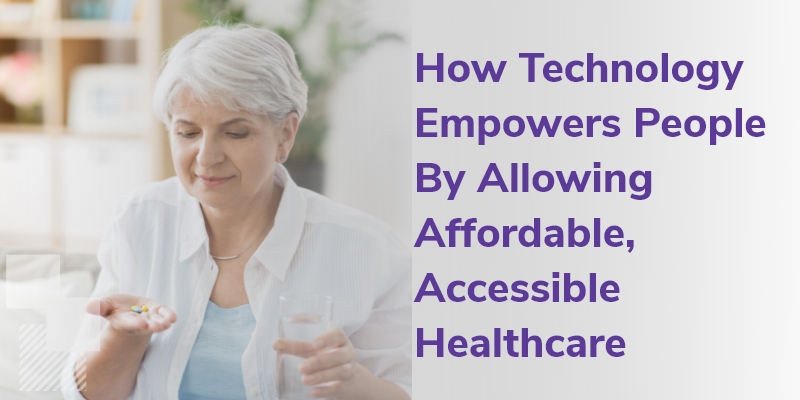 How Technology Empowers People By Allowing Affordable, Accessible Healthcare
September 9, 2021 6:09 am
Among other basic needs, all of us are also entitled to a good healthcare system. Like any basic element of life, health care sustains us and should always be accessible and affordable for everyone—where they need it, when they need it, without any exceptions or interruptions.
Accessibility has no meaning if it's not affordable.
Whenever I pick my pen to prescribe treatment to my patients I always remember that day when our family had to take out a loan for surgery for my sister's femur fracture.
Why is healthcare getting costly day by day? 
Is improved healthcare due to modernization and super specialization solely responsible for increased cost?
No!
Major reason for unaffordable health care is lack of awareness about common diseases among patients leading to anxiety & fear.
If we leave aside traumatic injuries and infectious diseases, allopathic treatment is mainly focused on controlling disease progression instead of disease cure. Most viral diseases still do not have a proper cure till date.
First line of treatment for controlling progression of any disease is through diet & lifestyle modifications which is almost free.
Lets see a few examples of the most common disease where patient education, which is the first line of treatment instead of medicine, can save millions of dollars per year !
Acid peptic disorder
Viral diseases like dengue, COVID-19, chickenpox, smallpox need more awareness about warning signs and symptoms than hospitalization as most of the patients can be cured at home, only few need hospitalization.
Also Read This: Most Common Nutrient Deficiencies in Older Adults
Lack of awareness leads to following issues that add to the financial burden:
Unnecessary investigation - Lack of awareness about diseases usually leads to unnecessary investigation (many times they are requested by the patients or their family members) which not only leads to financial burden but also hospital/laboratory acquired infections.
Super specialization consultation without family physician referral - Direct super specialization consultation is not only counter productive but also a huge financial burden as super specialists are focused on treating specific parts of the body instead of holistic treatment. Many times super specialists are biased toward diseases they are specialized in, leading to wrong diagnosis or unnecessary investigations. Many times patients keep consulting wrong specialization e.g. psychiatric patients keep consulting neurologists or neurosurgeons.
Deliver high quality articles on preventive healthcare to end users to create awareness how good nutrition, regular exercise, and sufficient sleep can help us live disease free.
Apps like REAN HealthGuru can help control disease progression by increasing medicine compliance and monitor vitals regularly.
Technology driven triage can guide patients which super specialist or specialist is best to consult.
Create awareness about generic medicine and their prices - websites like https://genericpedia.com/ can help patients to compare prices of similar generic medicines from different manufacturers.
Patient discussion forum where patients can interact with other patients as well experts,  can help in relieving unnecessary anxiety.
Download the REAN Health Guru App today, or visit us at https://www.reanfoundation.org/ to know more on our unique healthcare platforms.
About The Author