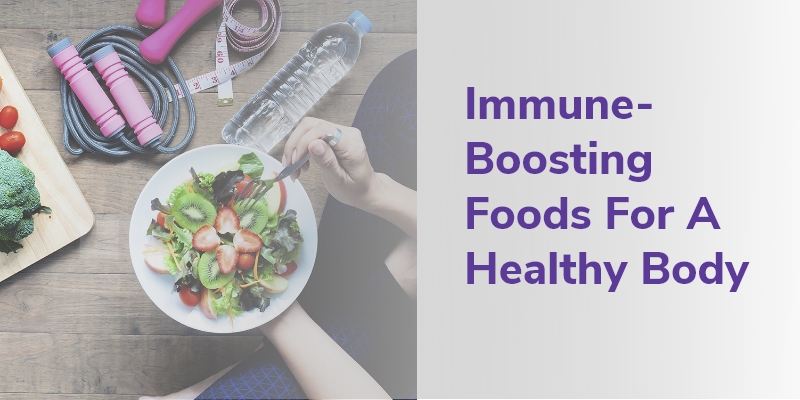 Immune-Boosting Foods For A Healthy Body

'The right raw materials can double or triple the protective power of the immune system,' says Dr. Joel Fuhrman, the famous American doctor. This protective power can only come from a super healthy immune system.
The human body has a unique immune system. We cannot see it. But, it plays the most significant role. Its prime function is to protect the body's overall health by keeping infections and diseases at bay. However, the immune system is not self-sustaining. It requires a delicate, harmonious balance of nutrition and lifestyle measures to function like clockwork.
Nutrition And Immunity: The Vital Link
Good nutrition is fundamental to safeguarding your immunity. Your dietary patterns and individual food habits are deeply associated with the immune response generated when there is an immune challenge.
Studies suggest that malnutrition can impair the production and activity of the immune cells and antibodies. Also, there's bad news for people who love processed junk foods! Experts state that a diet consisting primarily of ultra-processed foods with low nutritional value can negatively impact the immune system. By nature, your digestive system is tuned to absorbing nutrients from dietary sources rather than supplements. However, when you feed your body with unhealthy supplementary diets, it may induce inflammation, weaken your immune system and promote disease development.
A good diet improves the immune system.
We need no stronger evidence to indicate that a healthy diet is a key to a responsive and strong immune system. A balanced diet comprises healthy foods like fruits, vegetables, legumes, lentils, lean protein, healthy fats, and whole grains.Oily processed foods and foods loaded with salt and sugar are certainly not a part of this list and hence are the ones you should steer clear off.
This is exactly why, for years, doctors have been advocating the goodness of fresh fruits and vegetables. Foods rich in Vitamin C are well-known for protecting the body and assisting in quick healing. Furthermore, foods like ginger, turmeric, lemongrass, and garlic are well-known for their ability to boost immunity and digestion since time immemorial.
To understand the connection between food and the immune system, we need to explore the topic in more detail.
Also Read: Ensuring Fast Recovery Post Viral Infections
Foods That Power Your Immune System
To eat is a necessity. To eat intelligently is an art. To build a robust immune system, you must choose foods that brim with vital nutrients. Nature has endowed us with many fruits, vegetables, and other food varieties that are undoubtedly the best natural immunity boosters.
Power-packed vegetables and fruits
Amla: The ancient super fruit
For centuries Amla has ruled the fruit kingdom as a superb source of vital nutrients. Did you know that a 100gm serving of Amla contains as much Vitamin C as a dozen oranges? This high concentration of Vitamin C makes Amla one of the best immunity-boosters, facilitating antibody response and white blood cell function. Amla is also rich in antioxidants which help to manage oxidative stress and release the free radicals generated due to infections.
Papaya: The fibrous protector
This bright orange tropical fruit is packed with fibers and copious amounts of Vitamin C, E, and A. One medium-sized papaya will contain double the daily recommended dosage of Vitamin C and decent amounts of magnesium, potassium, and folates. Papayas also have a unique digestive enzyme called Papain, which has anti-inflammatory properties.
Moringa: The mighty green
Moringa is a super food. The leafy green is packed with essential amino acids, calcium, protein, iron, and Zinc. The Vitamin C content in these leaves is seven times more than that of oranges. The potassium content is fifteen times more than that of a banana. Also, moringa is highly fibrous and contains vital antioxidants to boost immunity. Moringa can be consumed as a dish, tea, or soup. The tea, which is a good remedy for cold, can be made by boiling moringa flowers in water.
Spinach: The substantial nourisher
Spinach deserves to be on this list for many reasons. This leafy green vegetable has numerous antioxidants and immunity-boosting nutrients like beta carotene and Vitamin C. They are also rich in fiber, calcium, and dietary magnesium. Spinach also has very few calories, and it is easy to cook. Light cooking makes it easier to absorb the Vitamin A and other nutrients present in spinach.
Carrots: The crunchy veggie
Who doesn't love carrots? These colorful root vegetables are replete with Vitamin A, beta-carotene, minerals, and antioxidants. In addition to their sweet flavor and satisfying crunch, carrots aid in fighting infection, inflammation, and cell damage. The Vitamin C in carrots helps build antibodies and defends your immune system from inflammation and infections.
Citrus Fruits: The tangy goodness
The family of Citrus fruits comprises lemons, oranges, grapefruit, clementine, tangerines, and limes. It is a well-known fact that citrus fruits are rich in Vitamin C, which can lessen the severity of a cold and shorten its duration. These fruits are also high in fiber content and phytonutrients. The recommended daily dietary allowance for citrus fruits is 90gms for men and 75gms for women.
Antioxidant-rich spices and herbs
Here is a list of spices and herbs that can be found right in your home and help boost your immunity as well. They are stapled, simple, yet powerful kitchen ingredients used in many cuisines to add flavor, color, and robustness. For centuries people have trusted these spices and herbs to aid their digestion and improve immunity.
Turmeric: The ubiquitous spice
The unique life-saving ingredient in turmeric is Curcumin, which gives this root its vivid yellow hue. Curcumin is a phyto-derivative known for its anti-bacterial, anti-inflammatory, and healing properties. It is the main component that gives turmeric its immunity-boosting properties.
Tulsi: The precious herb
Tulsi is one of the most prominent herbs with a broad spectrum of anti-microbial, anti-depressant, anti-viral, and anti-fungal properties. This herb is also one of the primary sources of Vitamin C and Zinc, making it a natural immunity booster.
Garlic & Ginger: The dynamic duo
Garlic and ginger are an inseparable pair of spices, each having its unique immunity-boosting properties. Allicin, a sulfur-containing compound, is responsible for garlic's immune-boosting properties. This bulbous vegetable has been cited for its ability to reduce blood pressure, improve circulation, and prevent arteries from hardening.
Ginger, another tuberous root, is a powerful anti-bacterial and anti-inflammatory medicine that helps keep several infections at bay. Ginger contains Gingerol, an active component that exhibits immune-boosting properties.
Cinnamon: The classic spice
Cinnamon is a highly-valued spice not only known for its flavor but also its anti-inflammatory properties. The spice has anti-bacterial and anti-fungal properties that help reduce the risk of infection. Cinnamon also has significant levels of antioxidants that make it a powerful antidiabetic.
In a nutshell, try to follow the mantra, "Say hello to garlic, incorporate citrus, include ginger, and add turmeric to your day-to-day diet."
Nutrient-rich nuts and seeds
Next on our list of immune-boosting foods are nuts, seeds, and dried fruits, which are conveniently available in a wide array of choices that include:
Dates
Apricots
Raisins
Figs
Walnuts
Almonds
Hazelnuts
Pine nuts
Sesame seeds
Pumpkin seeds
Sunflower seeds
Flax seeds
Consuming a handful of nuts and seeds every day can provide you with Omega-3, Protein, Magnesium, and Zinc. They also facilitate the absorption of fat-soluble vitamins A, D, E, and K. And that's not all. Nuts and seeds help to :
Prevent chronic diseases
Help in weight loss
Regulate blood sugar
Improve skin and hair
Boost immunity
Protein-rich animal foods and products
Poultry and Eggs: The hearty pair
It is only natural that you reach out for a bowl of soul-satisfying chicken soup when you're down with a cold or the flu. All the poultry you love, such as the chicken, turkey, and duck, are rich in protein and Vitamin B6 that help form new and healthy RBCs.
Eggs are one of the most versatile food items. The egg whites are rich in protein, and the creamy yolks are packed with immune-boosting nutrients. Eggs also have a high content of Vitamin D. An egg a day can help in strengthening immunity.
Shellfish: The ocean's goodness
While shellfish are rich in calcium, Omega 3 fatty acids, and Vitamin B12, they are also a superb source of Zinc, another vital nutrient required for immunity. A regular intake of shellfish such as lobsters, crabs, mussels, and oysters can improve your zinc levels and overall immune function.
Yogurt: The wonder probiotic
Yogurt is highly recommended in your everyday diet. This creamy, rich and delicious milk product can promote your gut health, aid digestion, and profoundly improve your overall immunity. A cup of yogurt contains vitamins, calcium, proteins, and essential microorganisms like probiotics. that boost immunity. Studies reveal that probiotics improve the rapid response of your immunity by increasing the activity of cells that ingest harmful particles.
Gluten-free millets
Driven by the recent health-conscious trends and awareness, millets have replaced grains like rice and wheat. Minor millets and ancient grains like finger millets, foxtail, pearl millets, and sorghum replace daily staples. Their nutritional richness, good fiber content, and low glycemic index are factors driving this healthy trend. Millets are powerhouses of essential vitamins, minerals, macro and micronutrients, and antioxidants.
Jowar, a highly popular millet, is loaded with calcium, phosphorus, potassium, copper, Zinc, and whatnot. These millets are essentially the reason for our ancestors' good health and longevity. As small as they are, these wonder foods are packed with every nutrient necessary to ward off illnesses. Additionally, millet consumption decreases triglycerides and C-reactive protein, thereby preventing cardiovascular diseases.
Eating Right For A Better Well-being
It is easy to gather information about the right food for your immunity. But implementing it in your everyday diet is the real deal. People often embark on a balanced diet regimen with much enthusiasm and eagerness. But somewhere along the way, many tend to waver or forget to follow the food schedule. Calories, food intervals, and restrictions are forgotten or ignored. This eventually leads to a higher calorie intake, which can greatly impact their health and well-being. When these fundamental aspects are affected, the body's immunity is compromised, leaving you vulnerable to even the smallest of infections.
However, thanks to advanced technology, that effectively helps in covid management. Numerous health and wellness apps can help you immensely in taking care of your health. Here is how these apps facilitate your commitment to improving your well-being:
Keeps track of your nutritional intake.
Regularizes your food schedule to keep your body energized.
Provides nutritional and calorie information about the food you eat.
Personalizes your calorie goals
Suggests healthy meal plans
Helps build a holistic diet and exercise plan
With such apps at your disposal, you can make informed choices and be aware of your diet habits that require improvisation.
Protecting Your Immune System: A Lifelong Goal
Your immunity is a priceless asset. It is what keeps you going with energy from dawn to dusk. Your overall immunity depends on factors like good sleep, mental well-being, and emotional stability. However, a well-balanced, nutritious diet that fuels your body is the most fundamental requirement of a healthy immune system and also helps in the post-viral recovery process.
We should keep in mind that we live in precarious times, where immunity is of paramount importance and cannot be taken for granted. Therefore, we recommend making finer food choices that optimize your immunity and keep it well-protected. All it takes is a little effort and mindful choices. You may also seek the advice of expert nutritionists or choose a good health app and see how it caters to your health goals.
We at REAN Foundation are ready to help and guide you with our healthcare platform. Allow us to help you track your health in these tumultuous times. Want to connect with medical professionals? We shall help with that too. Get connected with us to stay safe and healthy.
About The Author