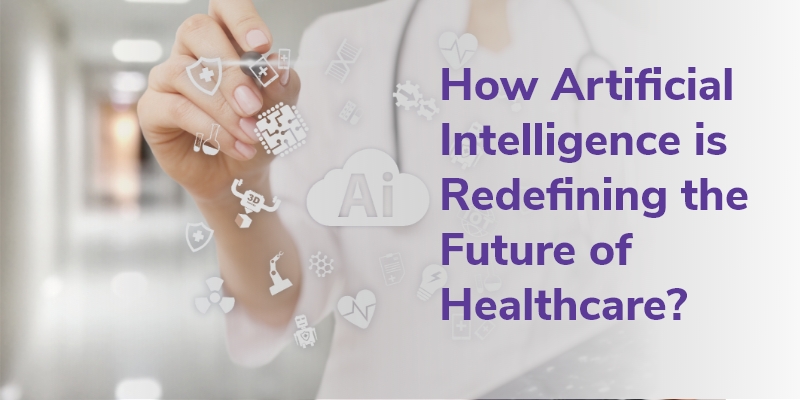 Going Futuristic: How AI is Transforming Healthcare
As the healthcare industry regroups and restrategizes for a post-covid world, one thing is certain. Digital transformation of healthcare has become a priority. The growing demand for timely healthcare access has widened the scope of technology-enabled healthcare solutions tremendously.
It is to be noted that next-generation healthcare banks on emerging technologies such as artificial intelligence, machine learning, virtual reality, the IoT, and a whole lot of digital solutions for improved operational efficiency.
More specifically, AI and ML solutions have the potential to redefine healthcare by offering enhanced experiences for both the providers and the patients alike. In fact, it is believed that AI solutions can facilitate improved market growth by enabling new business models for healthcare providers. Studies reveal that deploying AI-enabled healthcare applications can reduce the cost of healthcare by up to $150 billion per year for the US healthcare industry by the year 2026.
So, how exactly does AI bring about this transformation?
How AI Powers Healthcare Transformation?
The foray of AI into healthcare is indeed a game-changer of sorts, for the medical sector is turning into a dynamic and challenging ecosystem. The capabilities that AI solutions demonstrate are becoming indispensable, from managing patient-physician interactions to offering accurate diagnoses and enabling drug discovery. Let us see how AI is slowly but surely redefining healthcare practices:
General Wellness: AI empowers healthcare professionals with a deeper understanding of the health care needs of the individuals they care for. Such a profound understanding allows physicians to offer personalized attention, superior guidance, and timely patient support. Further, AI-enabled applications inspire a healthy lifestyle in individuals, thus promoting proactive management of simple health issues.
Timely Detection: AI is becoming more useful in the timely and accurate detection of diseases such as cancer at a much earlier stage. It has been found that AI is extremely useful in analyzing and interpreting mammograms at least 30 times faster than manual translation. Further, the results are almost 99% accurate, thus minimizing the need for invasive procedures like biopsies.
Relevant Diagnosis: Healthcare businesses worldwide are leveraging the cognitive capabilities of AI-driven applications to unlock huge amounts of data that aids with an accurate diagnosis. For instance, IBM's Watson has the ability to analyze and store every health journal, symptom, case report, treatment, and response plan available anywhere in the world. Watson is also programmed to process huge volumes of data at an exponential rate incomparable to manual processing.
Improved Decision-Making: Integrating big health data with timely decisions would lead to improved health care outcomes. AI-driven predictive analytics have been found particularly helpful in aiding faster clinical decisions. Additionally, using the technique of pattern recognition, these algorithms can identify patients who are at risk of developing or deteriorating medical conditions. It is also interesting to note that they can further attribute the cause to lifestyle, genomic or environmental factors.
Palliative Care: Robots with in-built machine learning algorithms, are poised to revolutionize end-of-life care and provide greater independence to the elderly. As a result, fewer people will require hospitalization and the need for care homes will likely reduce. Humanoids take palliative support a step further and can hold meaningful conversations, nurture social interactions with the elderly, and help keep the aging mind active.
Also Read This: Risks & Causes of Lack of Sleep and Tips for Better Sleep
The role of technology has become inextricably linked to delivering value-based care. With the ability of powerful algorithms, AI/ML solutions are offering significant breakthroughs in various medical fields.
Patient Monitoring - Enables remote diagnosis and fosters communication between patients and doctors.
Robotic Surgery - Assists surgeons to create precise incisions, minimizing the risk of complications in the longer run.
Health Data Management - Simplifies health records management and maintenance by integrating AI and automation solutions for data storage and retrieval.
Virtual Care Assistants - Minimizes unnecessary hospitalization, reduces the burden on physicians, and enables wellness assistance with the help of voice and AI to deliver superior care.
Digital Health Assistants - Offers medical consultation to patients and carers applying the individual's health history and information procured from authorized sources. The user has to just report their symptoms. Chatbots like REAN HealthGuru leverage NLP and conversational-AI to compare symptoms against a database of disorders and make useful recommendations
Drug Research - Streamlines drug research, discovery, and drug repurposing functions and facilitates reduction in costs and time to market for new drugs.
Redefining Patient Experiences
The advent of next-generation technologies like AI, ML, virtual and augmented reality, Internet of Medical Things (IoMT), etc., seem to foretell a future of autonomous interactions. In fact, experts believe this growth certainly can elevate patient experiences to an all-new high. It is certain that technology will be embedded into every patient interaction, from chatbots on websites to disease management protocols that aid and direct behavior to virtual assistant integration to schedule and follow up on appointments.
Health IT is thus gaining shape with these cutting-edge technologies.
Wearables - Wearables such as armbands, watches, bracelets, etc., are useful innovations that offer real-time insights into a patient's health. In addition to monitoring the body vitals, some devices can also gather behavioral data to provide insights into mental health. This data enables the wearer to make timely decisions regarding their health condition and seek medical attention if required.
IoMT - IoMT is the manifestation of IoT in healthcare. These devices contribute greatly to the monitoring and prevention of chronic illnesses. The technology involves sensor-enabled wearables such as ECG or EKG monitors. Furthermore, there are IoT-driven devices that are particularly useful for measurements like blood glucose level, blood pressure, skin temperature, etc.
Voice Assistants - It was earlier predicted that Voice would replace at least 50% of the searches made worldwide, and we are seeing it happening now. Voice-enabled services are most suitable for patient engagement services and are known to minimize human errors when processing a set of instructions, like a checklist.
Healthcare ChatBots - Advancements in AI technology have facilitated the rise of chatbots in healthcare. Chatbots are intelligent systems with conversational interfaces that can gather patient information with a simple interview. Additionally, the collected data will be incorporated into the healthcare system to facilitate patient management, beginning with admission, as well as communication with physicians and health record maintenance.
AR and VR - Sometimes, even the skilled hands of an expert surgeon may falter in unexpected situations on the operating table. AR/VR technologies have the potential to minimize these scenarios. These technologies are becoming extremely handy for training and simulated surgeries and are revolutionizing treatments and care.
A Health IT Strategy for Preventable Conditions
The quality of healthcare providers may soon be determined not by the number of successful treatments and procedures performed but by the healthcare outcomes that they deliver for the patients under their care. The objective will be to focus on general wellness, than offering timely treatment. Thus, the continuum of care is reinforced with a preventive medicine strategy that reduces the need for care.
Leveraging technology is crucial for this preventive medicine model to succeed. Indeed, technology can augment preventive healthcare and can make it more accessible to end-users. Therefore, it is vital for governments and healthcare organizations to harness the potential of emerging technologies and empower patients and caregivers to improve their health.
The good news is that there are already indications that the healthcare sector is moving in the right direction spurred by digital innovations. In addition to the EHR (electronic health record), we are now seeing the rise of EWR (electronic wellness record). While the EHR tracks the episodic interactions with the physicians, the EWR tracks all the other activities we do to support our wellness. These could be something as basic as monitoring the weight gain/loss on a weekly basis or the steps one takes towards their Parkinson's management.
The new breed of patient engagement platforms is far more intuitive and responds to the challenge very well. These advanced platforms go the extra mile to cover the continuum of touchpoints that they can offer. The focus is more on patient well-being than patient engagement. With powerful integration capabilities, modern-day platforms can cover the entire spectrum of the patient's journey, offering timely, well-informed nudges to promote a healthy lifestyle and personalized interventions. For instance, if you have diabetes, these platforms can encourage your participation in behavioral health management activities, such as diabetes prevention plans or defining exercise protocols.
Towards a Better Quality of Life
As the healthcare industry moves towards complete digitization, it is also moving closer to offering proactive care. It has become the goal of every healthcare provider to prevent chronic diseases, acute episodes, and sudden declines in health. AI and other health IT are poised to provide the bedrock for this evolving trend, powered by predictive analytics and other clinical decision support tools and techniques.
There is no doubt that the future of healthcare is inextricably linked to the future of health technology. REAN Foundation is mindful of this trend and leverages technology to offer better health outcomes. Our goal is to deliver the right technological breakthroughs that will empower individuals and communities to manage their health independently. Visit us to know more.
Download the REAN Health Guru App today, or visit us at https://www.reanfoundation.org/ to know more on our unique healthcare platforms.
About The Author