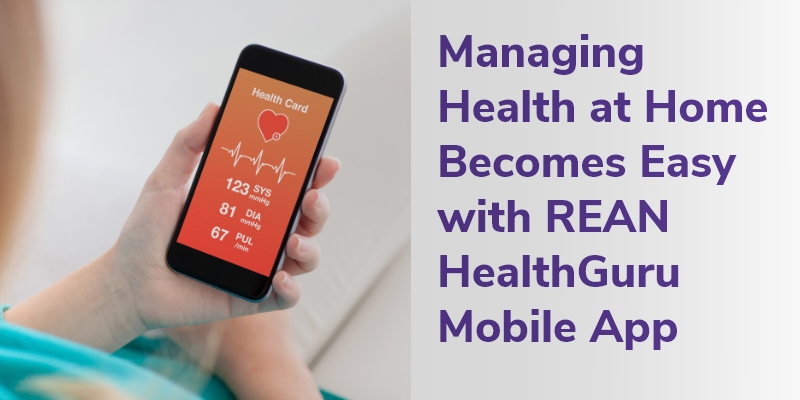 Managing Health at Home Becomes Easy with REAN HealthGuru Mobile App

We all know that chronic diseases, if managed efficiently, can allow a person to lead a life of high quality. When the condition is monitored and kept under control, the need for hospitalization reduces, bringing down the cost of healthcare management.
If you are at risk of contracting a chronic illness or are already managing one, it is important for you to have a basic understanding of the following factors. This will help in the prevention of the disease, as well as make it easier for you to manage the disease.
Following healthy nutrition
Doing regular exercise
Following medication as prescribed by the doctor
Avoiding stress
Being aware of symptoms to keep their condition in check
Measuring and recording their vitals to track historical data
With the advent of modern healthcare technology platforms, managing health and preventing chronic conditions has become a lot easier. Individuals, families, and professional caregivers can vastly benefit from health tech platforms. They not only empower you to take control of your health but also help physicians to:
Securely monitor patients' daily activities and at-home recovery process
Compare historical vitals data and make informed risk assessments
Suggest preventive or remedial treatments based on data-based insights
Save time and resources by communicating and monitoring remotely
REAN Foundation has been established with a vision to empower individuals to manage their health and well being. With the help of intuitive, easy to use healthcare platforms, REAN Foundation helps you in:
Taking control of your health and wellbeing and reducing the need to travel for medical help repeatedly.
Building your own care community that enables quality care from the comfort of your home.
Reducing the number of hospital readmissions, thereby decreasing the risk of infections while saving money and effort.
Using a friendly mobile platform to

Manage medications
Record information about symptoms
Capture body's vitals
Gain medical insights from authorized sources
Click here to learn more about the REAN HealthGuru.
Also Read: Use of technology in COVID-19 management
REAN HealthGuru is a health companion in the form of a mobile app that motivates you to actively work on preventing as well as managing your chronic health conditions at home. You can use the app to include close friends, family, and caregivers in your support network. The app functions around the following key pillars for providing appropriate care and support.
Assisting with Efficient Medication Management
Tracking Body's Vitals
Identifying Disease Symptoms
Providing Tips on Nutrition
Improving Focus on Physical Exercise
Reducing Stress and Building Mindfulness
Our priority was to keep the user interface simple and engaging, so that it motivates you to upload and share your health parameters, prescriptions, test results, etc. with your personal care community. While you manage your illness at home, you can also get insights that dispel any doubts or concerns regarding disease symptoms. You can also discover some valuable nutrition tips to improve your overall well-being.
Mobile health technology is the next step for a healthy future. With REAN HealthGuru, we have taken the first step in the right direction. Our focus is to make our platforms easy-to-use for all ages from 18 to 80 years old, so families around the world can take full advantage of technology in their journey towards better health.
About The Author